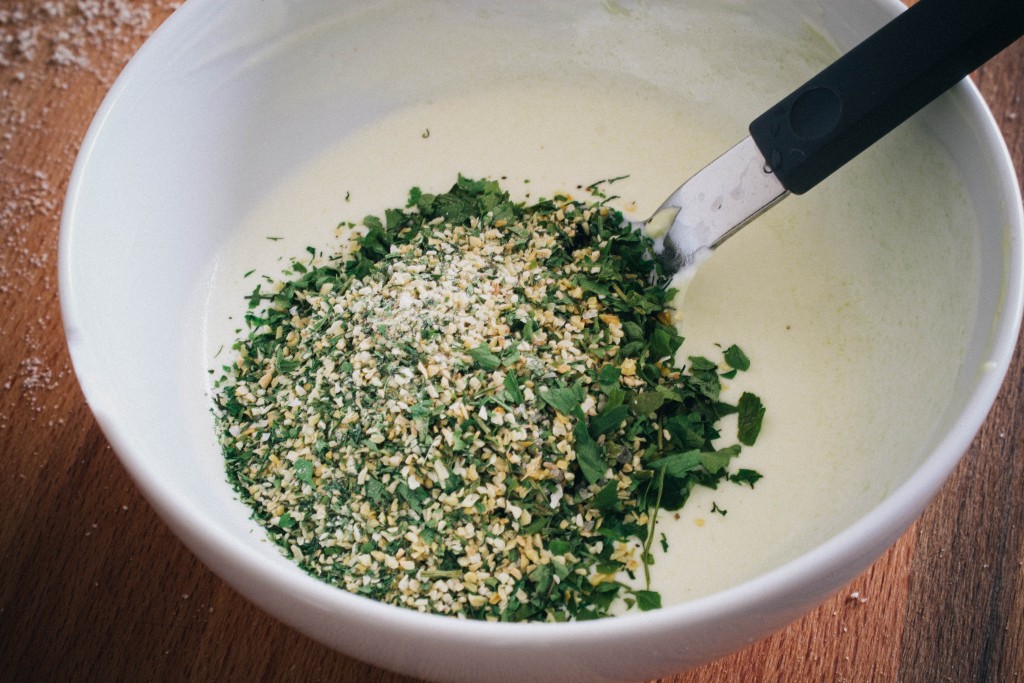 After moving to France, there were a few things that I missed sooo much food-wise that I would really stock up on during my visits back home to Detroit. Over the years, I got used to French products and relied less and less on my precious stock of American goods. I remember once during my first year in Paris I literally came back with an entire suitcase of American goodies like peanut butter, Kraft mac n cheese, ramen (yes, I brought Ramen to Paris because…French food wasn't good enough for me), and lots of salad dressing. I'm a huge fan of blue cheese, cesar, ranch, thousand island… I love dressing!
Let's take a step back though, because you might be wondering "…what do French people put on their salads if you had to import dressing??" The French do it the right way. They don't add a bunch of fatty creamy sauce to their salads: they mix up an olive oil & vinegar dressing (or vinaigrette, I suppose, to be precise) and season it with a bit of salt and pepper, and that's all she wrote. And it is good. So good. Once my ramen-noodle taste buds grew up a bit, I learned to really appreciate a great vinaigrette and stopped drowning my salads in store-bought dressings. Sometimes, though, a good ranch dressing is the perfect accompaniment to a fresh salad or pita, wrap, or even just as a veggie dip.
Now, fast-forward to this weekend as our grocery delivery was hopelessly delayed and our cupboards were desperately bare. I didn't have much to work with for dinner, so really needed something simple but with strong flavors. I always have ingredients to make pasta with a nice tomato sauce, so that was a no-brainer. But there were also a few fresh ingredients available, too: romaine lettuce, a tomato, red onions, cucumber and black olives. Since we were having a relatively simple meal, I really wanted to dress it up a bit with a bit more than our classic vinaigrette. Then the light bulb went off: Ranch! Now, I have tried many times to duplicate that classic ranchflavour, never really succeeding to create something I liked. Some things just aren't the same when they're from scratch. My goal was simply to throw the ingredients I had together for a creamy garlicy sauce, but it ended up tasting pretty close to the real thing, albeit way healthier! Let me know what you think. Bon appetit!
Wet ingredients:
1 cup of greek yogurt
¼ cup of mayonnaise
1 tablespoon of fresh lemon juice
1 teaspoon of Dijon-style mustard
1 tablespoon of olive oil
Dry ingredients:
1 tablespoon garlic powder
1 teaspoon onion powder
1 teaspoon dried parsley flakes
1 teaspoon dried chives
1 teaspoon dried dill
Instructions:
Combine all of the dry ingredients, then add in the wet ingredients stirring well to make sure everything is nice and mixed together. The dressing can be used immediately, but the longer you wait, the better it tastes! If you can make it overnight, then even better. Also note: lots of homemade ranch recipes call for fresh garlic – this is way too strong for me and really overpowers the dressing, but if you love garlic, then feel free to add a clove!
Note: if you can get dried buttermilk, then add 1 tablespoon of that as well. I can't get it locally, so I've left it off the ingredient list.
Tip: If you combine only the dry ingredients, you've got Ranch-flavored spice mix, which can be used for all sorts of delicious recipes.