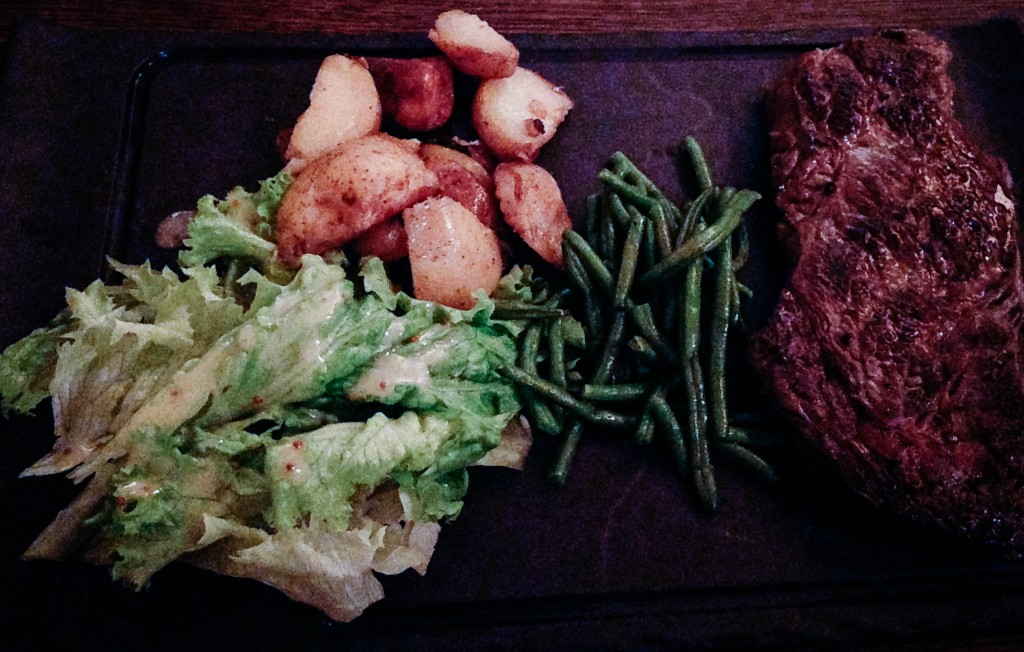 I know it's sooo cliché but I remember like it was yesterday the day I decided to go on my first trip to Europe. I was sitting in French class at the end of Senior Year of High School, and my best friend said "We should go to Paris after we graduate!" I more or less went along with it, thinking it would be one of those things we talked about but never actually ended up doing. I totally under-estimated her, though, because she went off and found us plane tickets a few weeks later! I had, after all, said I would go. I couldn't back out at this point, and I was glad I couldn't because this trip clearly changed the course of my life.
After a few months of working a summer job to pay for the trip and learning a few more extra phrases in French, we stuffed our backpacks to capacity and set off on our Big European Adventure. It was amazing (of course – it's Paris!) and this trip ultimately planted the seed which would later become a full-blown desire to move to the City of Lights. So now, almost 15 years later… I'd like to share some of my favorite restaurants that I've come to love over the 10 years I lived there. Besides, it's only fitting that my first travel post be about Paris!
One of the most challenging things when planning a trip to Paris is deciding where to eat! There are so many choices in so many different neighborhoods that it can be quite overwhelming. Jonathan and I both agree, though, that you can't really just pop into random restaurants hoping for an amazing meal. There are sooo many restaurants in Paris, but not all of them are amazing.
My #1 tip is definitely to check Tripadvisor. Of course you can't plan your meals 100% around "Top 10 Restaurants in Paris" lists because you miss out on some really great ones, off the beaten path or just not very well known. Though, you do want to try to make your restaurant experiences as memorable as possible, so here are a few that I recommend to friends visiting Paris, to the guests staying in my Airbnb Rental, and now to you! I always get great feedback, so these should be solid choices.  Have you ever been to Paris and had an amazing restaurant experience? If so, then I'd love to hear about it in the comments section!
In no particular order, here we go for a few of my favorite places to eat in Paris:
Camelia (inside Mandarin Oriental)
This restaurant is very, very nice! It's not cheap, but if you have a special occasion to celebrate or just want to have a fancy dinner, then this place is a great option. Even better in the summer as you can dine in their lush private garden! I ate here one day totally unplanned and was so impressed that this has become one of my favorite spots.
Les Ombres
For an amazing (maybe one of the best?) views from a restaurant in Paris — definitely come here. The food is pricey as you'd expect, but I really enjoy this place. Check out lafourchette.com for discounts as there are often specials. I've had many things on the menu and have not once been disappointed. This place isn't amazingly charming (it's not awful, just not ohmygoodnessthisisthecutestplaceever) and the staff are not particularly friendly… but the view is crazy!
La Cave Gourmande
I send all of my out-of-town guests here. The food is classic French, right in the heart of Montmartre, the food is delicious, the service perfect, and the prices are very reasonable. Local perfection if you'll be in the 18th arrondissement & Montmartre area! This place has a definite local feel to it, and would be the perfect place for lunch if you're exploring the area. They're also open somewhat late, which is rare in Paris.
Kong
This place is pretty chic and fashionable, and great for drinks, dinner, dancing…or all three! Not cheap, but a good all-in-one place if you want to go for dinner & dancing. It's located on the top floor of a historic Parisian building, try for a table with a view! Reservations highly recommended for dinner. Don't be put off by the hostess that may or may not be very friendly…
Mama Shelter
This is both a restaurant and a pizza place. It's a very cool hotel with a big bar, and the bar serves food too. I love everything about this place (except for the sometimes snarky service…)! Excellent for drinks or dinner. Very chic/urban atmosphere. Valet parking available. This place is awesome! Their food is delish, and it's worth going off the typical tourist path to get  there (they're not far from Pere Lachaise Cemetery).
Pub Saint Germain
This is one of my go-to spots for both food & drinks. They're open all night long, and serve food until the wee hours of the night. Their burgers are fantastic, as is their Asian platter. Drinks are half-price during happy hour, and this is a great spot for people watching. It's in the trendy Saint Germain neighborhood, and I highly recommend it if you're out and about in that area.
Le Christine
Cute & cosy little restaurant in the center of Paris; not the cheapest, but they offer a pretty good tasting menu! This place is actually great for tourists because you get a pretty amazing culinary experience in a charming little restaurant, in a lovely neighborhood. There are often deals online, so definitely check that out.
La Bouteille d'Or
Good French food at reasonable prices, and a view of Notre Dame. There will be other tourists, but don't let that scare you; the food is good, and won't break the bank. The one thing that stood out when I went was the service: they treated us like royalty! It's a bit too brightly-lit to really be considered cozy or romantic, but for a lunch spot this place is perfect.
Chez Robert et Louise
This place is a cute little "typical" French restaurant that specializes in different cuts of beef. I found that for this neighborhood, the price was pretty decent. Their food is delicious and the place is very charming but the best part: the food is cooked over an open fire! I discovered this place one day when I was wandering around the Marais with Hubby, and I'm glad I did.
Grazie
For a great pizza experience, fresh ingredients and a lengthy wine menu, this place is one of your best bets in Paris. Good for a couple's night out, or for a group of friends! Delicious pizzas in a young/hip/urban atmosphere. Reservations are best, to avoid disappointment.
Do you have any other awesome places that we should know about? If so, then please post them in the comments section!