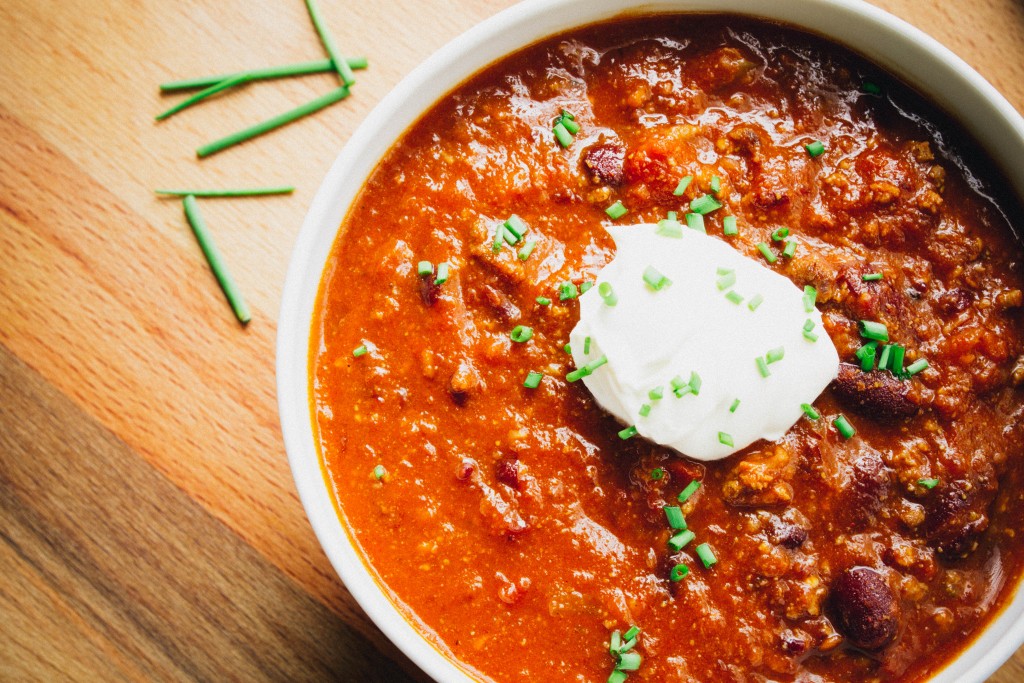 I know, I know…it's May and I'm writing about making hearty, spicy chilli! With 50 degree weather these past few days, though, I've been struggling with salads and other typically-Springy dishes. Now, I'm in full-blown Autumn mode and have been craving thick and filling soups and stews. A good compromise considering it is May, is Chilli! It's really a year-round dish, and can easily be freshened up with a big dollop of sour cream, some fresh cilantro, served atop a big bowl of rice. Or if you are always cold like me, then you can just have a big steaming bowl of the stuff on the couch enjoying a marathon of Netflix with your hubby. Or you can eat spoonfulls of it directly out of the pot and hope said hubby doesn't catch you… up to you 😉
Adding this recipe to the blog was a no-brainer because I've been making it for years, and everyone needs at least one good go-to chilli recipe. This is mine because it uses mainly pantry items, so can almost always be thrown together if you're in a pinch trying to find out what to make for dinner. This is essentially a perfect weeknight dinner because it packs a lot of flavour with only a few ingredients. It's also great because it allows you to be flexible with the time you put dinner on the table, because it can be ready in 30 minutes, but can simmer for an extra hour if needed! Anyway, this is one of those recipes that I've made at least a hundred times (like my marinara sauce) and I love it just as much each time. It's also one of those recipes that is extremely forgiving… you barely even need to measure things out too well.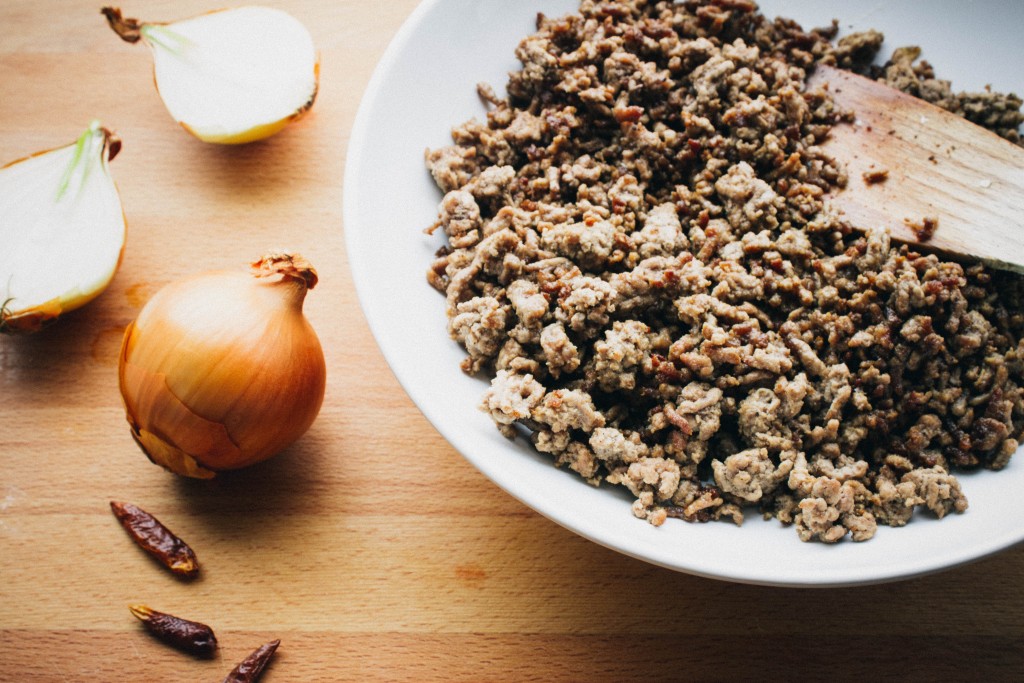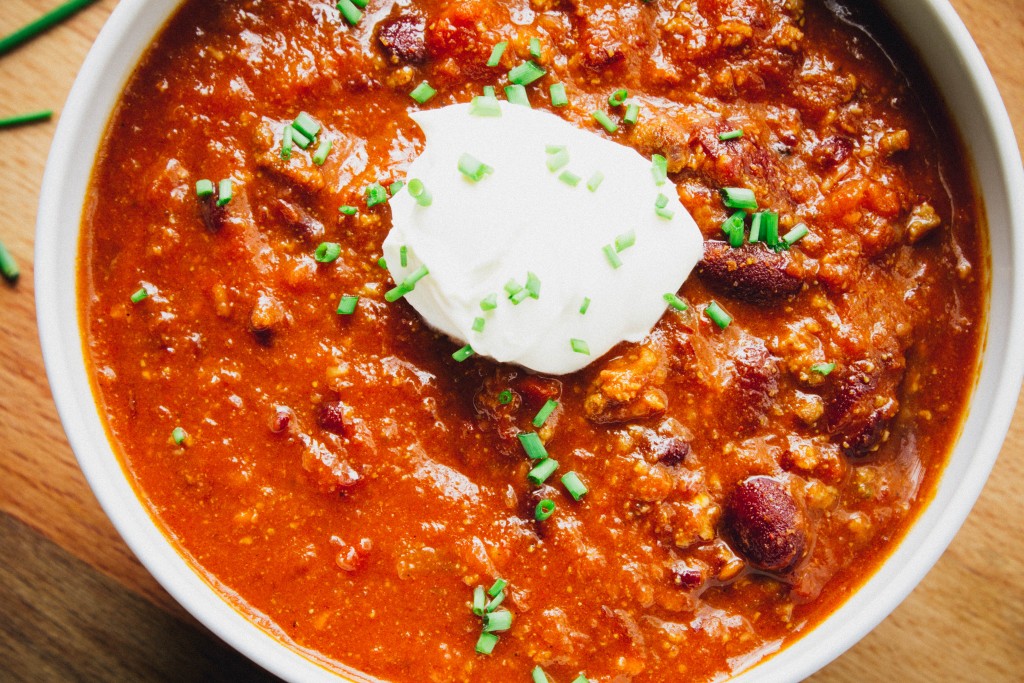 Ingredients:
Spices
1 tablespoon of powdered garlic
1 tablespoon of oregano
2 tablespoons of cumin
Smoked paprika (or chili powder)
Salt & Pepper to taste
200 grams of ground beef*
1 large white onion, chopped
4 cloves of garlic, minced
1 large can of whole tomatoes, passed through the mixer until smooth (unless you want chunks of tomatoes, which I love but Hubby doesn't)
1 16oz  big can of red kidney beans
1 tablespoon of butter
A few spoonfuls of Olive Oil
Garnish: fresh chopped cilantro, sour cream, chives, chopped onion… and whatever else you like!
Instructions:
Add a spoonful of olive oil, all of the spices, and ground beef to a large saucepan or non-stick pot, then brown the ground beef on medium heat (about 5-10 minutes).
Add in your chopped onion, and cook for about 5 minutes more.
Turn up the heat for about a minute (take care not to burn the onions, though!) then add in the tomato purée. The tomatoes should de-glaze the pan, so once that happens, turn the heat back down to medium.
Finally, add in the beans and let simmer for about 20-30 minutes. If you have a bit of time, don't hesitate to let this simmer for an hour or so; it only gets better with time!
Top with freshly chopped cilantro, a dollop of sour cream, and a drizzle of olive oil.
Notes: I use a very small amount of ground beef in my chilli because I really feel that the beans and tomatoes are the stars of this dish, but feel free to beef this up a bit more (ha ha see what I did there? Okay nerd moment out of my system). Seriously though, sometimes I add less sometimes more. Play around with it until you get a beef-to-bean ratio that best suits your taste buds!