This Saturday was my (31st….) birthday, and it was fabutastic. Yes, new word, that's just how awesome it was. I had a few annoyances throughout and somehow managed to actually cry at one point, but all in all, it was one of my best birthdays yet! All of the credit goes to my husband, though, and he really hit a home run this year. Thanks to him, I have a few new London travel tips for you to check out — well worth it! Also — keep reading for another amazingly easy cake recipe!
Jonathan planned out my day, from start to finish, and I am still impressed by how perfect everything turned out to be. My Type-A self had a hard time not knowing what we were going to be doing at all times, but I quickly let go and am so glad I did.
When Jonathan said we had to be up and out of the flat by 6.30am I thought he was joking (again, this was Saturday…), but when we were up and out by 6.45 (getting out of the house always takes us ages) I knew he meant business with the "Day of Birthday Surprises" 🙂
Our first stop was for breakfast at E Pellicci, a tiny little hole-in-the-wall cafe serving up full English breakfasts (including a vegetarian option). Their cappuccino's were everything you might possibly need that early on a Saturday morning, and the food was delish. Okay, Jonathan…. I see you.
Next we popped down to Oxford street to wander around a bit and to do some shopping. London is pretty awesome first thing in the morning, before all the tourists are milling about; there's something really special about a big city like London with no cars or people around. When we travel, we try to make it a point to get up before the sun comes up to go out and explore: it's a magical sleepy point in the day when everything is just a little bit more beautiful — I highly recommend giving it a try! So I guess we were tourists in London for the morning 🙂
After our Big Adventure visiting London, we headed back East to get some real shopping in: I needed new shoes (I'm using the term "need" quite loosely, here), so off to the mall to pick those out we went. I ended up getting an amaaaazing pair of Nine West black pumps for 75% off (um, hello? I'll take that deal any day), so that alone made my day a sucess. But it wasn't over yet…!
We had just enough time to come home to change and get ready for our night on the town, and this is where things got even more special.
Jonathan must have spent countless hours researching (and apparently my love of Tripadvisor rubbed off on him) until he found the perfect spot for dinner: The Sixtyone. Our food was exquisite, from the beginning to the end! We both love our grub, so I don't take it lightly to say that this is one of the best meals I have had in a restaurant in a long time. We got fish and lamb, and both were cooked to perfection, and even our cocktails were out-of-this-world amazing. Check out the addresses below!
E Pellicci
Full English breakfast & Italian classics
332 Bethnal Green Rd, London E2 0AG, England
+44 20 7739 487
Westfield Shopping Center (Stratford)
uk.westfield.com/stratfordcity
Montfichet Rd, London E20 1EJ
020 8221 7300
Sixtyone Restaurant
sixtyonerestaurant.co.uk
61 Upper Berkeley St, London W1H 7PP
020 7958 3222
Now onto that cake recipe I promised you. Okay so first of all, I need to confess: I originally wanted to take a bunch of photos during the day to add them to this post, but as usual, I'm terrible at snapping shots so only had one sad little photo of my Birthday Dessert graciously offered to me by the Sixtyone staff: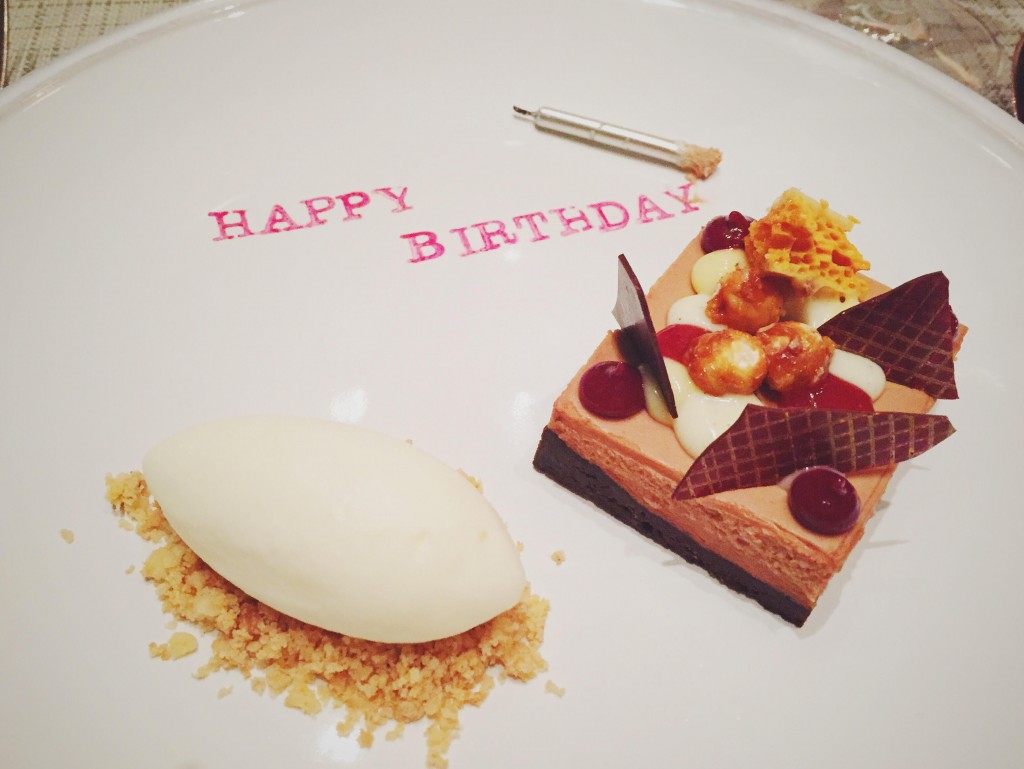 Then I started thinking — I should post a picture of my own cake that I've baked (because I'm so good at baking…). I've been playing around a bit with my Easiest Chocolate cake recipe for a while, trying different variations, mostly for when I'm in the mood for something fluffier. You guys… trust me when I tell you: this cakey cake recipe is so easy, so fast, and so perfect for a birthday cake celebration for two…! It came out so good I couldn't believe that I made it, totally from scratch, in less than 30 minutes all together.
Baking isn't easy for me, so I need my recipes to be fool-proof (times ten). Given that, I've kept the quantities as uniform as possible — nothing is worse than when a recipe calls for 1.5 cups of this, 3/4 cups of that, 2 tbps of another thing, sprinkled with 1.5 tsps of that one ingredient you already forgot you needed…! So, here's my take on the classic chocolate cake — whether you're a super-star when it comes to baking, or (like me) need to keep it simple — this recipe will not let you down.
Ingredients:
1 egg
1/2 cup milk
1/2 cup oil
1/2 cup cocoa
1/2 heaping cup flour
1/2 heaping cup sugar
2 teaspoons baking powder
Instructions:
Combine the egg, sugar, milk, and oil whisking for about 1 minute
Next, whisk in the flour, sugar, baking powder and cocoa powder
Whisk for another minute or two until everything is nice and smooth
Pour your mixture into a small buttered baking pan (this fills two 5 inch spring form pans, which are what I use)
Bake on 190degrees (celsius) for about 20-25 minutes
Once cooled, finish it off with your favorite icing, and enjoy your teensy weensy perfect-for-couples birthday cake!
*Note: this cake mix fills two of my pans, but would also work quite well in cupcake tins – I think it would fill about 5 cupcake molds.
**Note: I had two molds, so I made the cutest little two-layer cake ever, but you could just serve this as a single layer cake for one person, too!