This past month has been busier than busy, and my priorities have been less on food and more on…well, just getting things done. Now I'm the first person to not mind spending two hours on an elaborate morning breakfast on the weekend, whipping up pancakes, quiches, hash browns and whatever else my starving Saturday self is in the mood for. But sometimes… folks just don't have time for that, and this past weekend was one of those moments when I needed food, fast, and had no time to mess around with pots, pans or complicated recipes.
Even after living in France for ten years (argh… saying that makes me feel old…!), I never really got down with sweet breakfasts. No croissants or pains au chocolat for me! I'm a savory kind of girl, all the way. I'm getting into oatmeal in the morning now, but that has taken me about 25 years to get to that point. I need hearty. I need filling. I need much more than a pastry… ! So fast forward to this past Saturday when I've got tons of things to do, am starving, and my grocery delivery hasn't yet arrived.
Now I have tried (many, many times) to make eggs in the microwave, ever since one of my lovely colleagues mentioned the idea to me a few months ago. Sadly, microwave eggs have been a massive failure in my kitchen since I started trying to make them, most likely because my microwave doesn't have a temperature/level setting…! We went ages without having a microwave when I finally decided we could sacrifice some counter space for it (yes, that's why I forced Jonathan to reheat everything on the stove for months… because I didn't want to give up precious space on our tiny kitchen counters for a big clunky microwave). Needless to say, I didn't buy a top of the line model, and apparently the one I chose is so not top of the line that it only has one temperature setting: really high.
So, sunny-side up eggs don't come out magically perfect in my microwave, but I didn't give up…and I'm glad I didn't! I have stumbled on quite a few other microwave egg recipes, and today I'll be sharing one of my favorites: microwave veggie scrambled eggs (in a mug).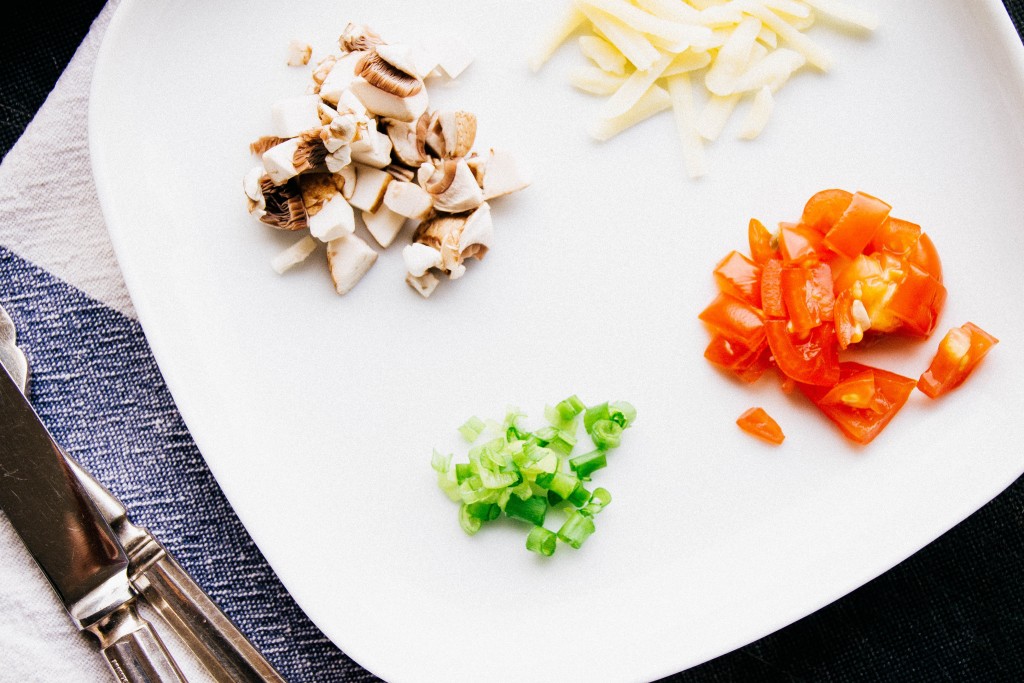 Ingredients:
1 egg
1 tablespoon milk
1 tablespoon shredded cheese
2 tablespoons diced veggies (I used mushrooms, scallions, and cherry tomatoes)
Salt and pepper to taste
Instructions:
Crack your egg into your mug, then stir in in the milk, cheese and veggies.
Cover your mug with a saucer or lid, then microwave for 30 seconds, stir, then for 20-30 more seconds.
Serve over toast, or directly out of the mug (if you're a Greedy McGreedy like me, and can't wait to gobble these down).
Note: cooking time will depend on your microwave. My microwave seems super powered on its unique one-size-fits-all temperature setting, so you might need to adjust cooking times accordingly.