Updated February 2019
Click here to jump to the recipe
This easy tomato marinara sauce is not only a breeze to whip up on a weeknight, but it's also as healthy as it gets!
You might not have noticed, but I'm obsessed with tomato sauce. Well, tomatoes in general, but I lovvvee me some red lycopene-filled tomatoes! I could totally have made this a niche blog called SeeFoodTomato, because pretty much all of my favorite recipes start out exactly the same way: with a red sauce.
That's right – even my very first blog entry was for a marinara sauce! That was not by accident – it deserved the number one post status because tomato sauce is my number one (okay, Jonathan is technically but you know what I mean ;-)). She's my go-to when I don't feel like making an elaborate meal. You can turn a simple can of tomatoes into the base for a pizza, a fantastic plate of spaghetti, or a gooey cheesy baked pasta dish. Or you can dip bread in it. Or you can turn it into a bloody mary. Depending on your mood (and the type of day you've had), tomato sauce has your back. So yes, I do force myself to step out of my comfort zone on this blog and make recipes that are not just a bunch of tomato sauce based variations, but that doesn't mean that I can't share them, from time to time 🙂
The first version of my marinara sauce that I posted is the simple, no-fuss easy ready-in-minutes version. It's delicious, versatile, and above all, super fast but still rich and delicious. Sometimes, though, you want a more structured sauce, with slightly more complex layers of flavour. So if you've only got about 15 minutes, then go for my original marinara sauce recipe. If you have a few more ingredients and around an hour to let this sauce simmer, then please give this one a try. This sauce is solid, you guys, and would be great over a bowl of spaghetti, or even as the sauce in a lasagna or even… on a piece of bread. Yes, this stuff is legit so give it a try! This is the ultimate 30-minute marinara sauce, and the only red sauce recipe that you'll ever need.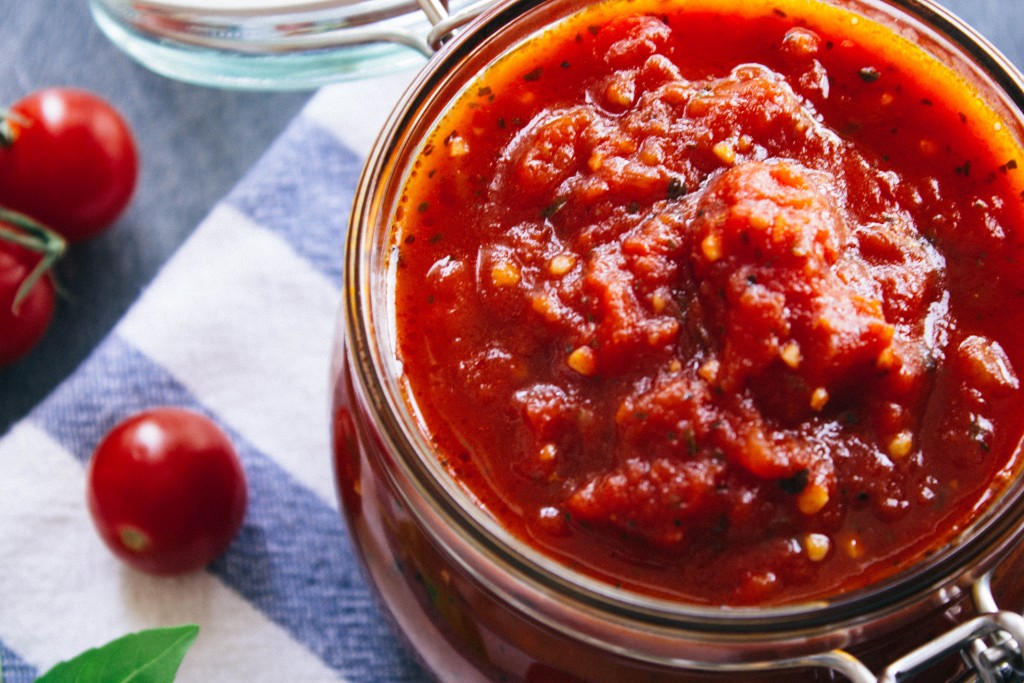 Easy, healthy marinara sauce
Ingredients
2

8 oz cans crushed or whole tomatoes

1

cup

cherry tomatoes

optional

1

teaspoon

salt

½

teaspoon

pepper

1

teaspoon

garlic powder

1

tablespoon

dried basil

1

tablespoon

dried oregano

1/4

cup

fresh basil

chopped

2

cloves

fresh garlic

minced

1

small shallot

minced

1/4

cup

fresh parmesan cheese

grated

2

tablespoons

extra virgin olive oil

1

bay leaf
Instructions
Add the shallot, garlic, and olive oil to a non-stick pot and sauté until cooked through (about 3-4 minutes) over medium heat.

Next add in the spices (salt, pepper, garlic powder, dried basil & oregano) & cherry tomatoes, stir for 1-2 minutes.

Add the whole tomatoes, using their juice to deglaze the pot.

Add all remaining ingredients, then bring the pot to a boil

Once boiling, reduce the heat to low and simmer for around 45 minutes to an hour.

Remove the bay leaf*

Using a wooden spoon or hand mixer, break down the tomatoes to have a smooth and uniform sauce (unless you like it chunky, which is great, too!).

Allow to simmer on low for another 30 minutes (or as long as you can) before serving.
*If you've never forgotten to take the bay leaf out of a soup or sauce, then lucky you, because it's awful and can totally ruin your meal if you chop it up into your dish!