**Updated March 2018**
This post has been in my 'drafts' folder for so long, mainly because there's just so much to say that it was tough to finally sit down and put together this post. Simply put, I already knew that I love Italy, but I now love Italy in the Winter! ❄ ☃ Milan is a great cold weather winter travel destination: less tourists, great food, super cosy. So, if you are wondering if we loved our New Year's trip to Northern Italy, then the answer is a resounding yes. If you want to know why, then keep reading!
Jonathan and I were looking to get away for a weekend during the holidays, to a destination that wouldn't be too far away or expensive, since we were in money-saving-mode (for another personal project which I'll write about very soon).
As usual I used all of my cheap flight search tips and tricks and came up with a short list of destinations, primarily based on available flight times and price. I'm always down for a trip to Italy and hadn't been to Milan in ages, so…Milan with Vueling Airlines was the winner. Off we went for four nights in Northern Italy (31 December – 4 January) for NYE 2016!
Day 1: December 31st (Milan, Italy)
We arrived pretty early (around 10am), so came straight into the City and dropped off our bags at our hotel. The hotel wasn't central, but it was right across from the Buonarroti metro station, which is just a few stops away from lots of major tourist spots. The hotel was a bit old and somewhat dated, but for the convenient location, great price (£143 for two nights), and friendly staff, it was more than decent. The room was comfy, there was a cute reading area, and we got great sleep while we were there.
Hotel Tiziano
Via Tiziano, 6, 20145 Milano, Italy
Phone: +39 02 469 9035
Despite the early wake-up, I was in tourist-mode and ready to make the most of this trip (as opposed to our usually  very laid-back travel style…), so we headed right towards the Duomo area. Pretty much right away, we realized that we were very under-dressed and were freezing our asses off…! It was hovering around 1 degree celsius, and we were coooold. We aren't winter travels pros, and it was clear that we could have been more prepared. Walking around for more than 15 minutes straight was out of the question, so we ended up inside the covered Gallery shopping area, right across from the Cathedral. If you want to hit up some of the luxury shops in Milan, then this is definitely the place to be! All of the major brands are there, and it's quite beautiful, especially during the holidays with all of the Christmas decorations.
Even though it was freezing and we couldn't take full advantage of just wandering around, the Christmas decorations and decorated Christmas tree in the shopping area were gorgeous. There were of course tons of tourists, since it was during the holidays but really the whole atmosphere was festive and felt like the holidays — everything we were hoping for. We stopped into this very chic spot for a sneaky hot chocolate and brekkie for me. Let's just say: one of us complained the whole time about how expensive it was, and one of us reveled in the absolute luxury of it all. I'll let you guess which one was me and which one was Jonathan 😉 Savini's is absolutely lush and if you want to splash out on a a hot chocolate or cappuccino while touring the city during the colder months, then this place makes it almost worth the cold.
Restaurant Savini
Galleria Vittorio Emanuele II
Via Ugo Foscolo, 5
20121 Milano – Italy
At this point, I was on the brink of frostbite, so we headed back towards the hotel and did some pre-game shopping of prosecco and other aperitivo supplies. We listened to music, had a hotel-room picnic, then headed back out into the cold to go see what Milan had to offer for NYE. I'm not going to beat around the bush: the evening was whack. lame. not fun. eventless. Now I am sure that there are fun parties in clubs around town, but we weren't really looking for that vibe. We wanted to be out in the major spots, reveling with the locals, and drinking prosecco in the streets. What we ended up doing was going to the over-crowded square in front of the Duomo, watching small groups set off dangerously-close fireworks, followed by the most anti-climactic NYE countdown I've ever seen. All while we were serenaded by the loud Italian rock band that was on the nearby stage. We tried to have a good time, but it just wasn't happening so we hopped on a bus and went back to the hotel. Jonathan and I both agreed that Milan for NYE was a let-down. Luckily, things really got better after Day 1!
Day 2: January 1st (Milan, Italy)
We weren't exactly out partying all night, so we woke up pretty early and went out exploring. Lots of things were closed due to the holiday, so we headed to the Navigli neighborhood which was vibrant and lively. We walked around before getting too cold and hungry before finally settling on an amazing little restaurant which was just about to close… glad we got a table because it was delicious!
Once we warmed up, we wandered around the canal area, enjoyed more Christmas decorations and the overall festive vibe. It was an interesting area to hang out it, and the sun was finally shining a bit so we didn't feel as frozen. Well, we were less frozen.
Once we'd wandered around long enough, we headed back to our 'hood and were ready for dinner. It was late and New Year's Day, so we of course struggled to find anything open. After googling/tripadvisoring/calling a bunch of places only to get busy signals or voicemails, we decided to venture out and just look for something open. I should point out that the Buonarroti neighborhood is fairly residential, so I think we really got lucky finding the Donati restaurant. They were open (it was after 10pm at this point) and the food was sooo good. The service was excellent, and the place was just perfect and cozy for a cold winter night, especially since our hotel was right down the street. The food of course was fantastic: Jonathan had seafood pasta, and I (of course) had spaghetti pomodoro.
Ristorante Donati Milano
Viale Cassiodoro, 4, Milano MI, Italy
Phone: +39 02 4331 9047
Practical information:
Getting around Milan is very easy using the Metro & bus system, taxis and Ubers. We took the metro from the Milan Malpensa airport into town very easily, and were able to navigate around with just a downloaded metro map on my phone. We are big fans of Uber and taxis, but we were trying to keep travel costs as low as possible, so we took full advantage of Milan's metro system. You can view a map of the Milan metro system here. The tickets can be purchased from machines with "ATM" written on them, and sometimes you can pay by debit/credit card, but most of the time you'll need to use cash. Here is a great guide explaining in detail how the Milan Metro works: http://www.italylogue.com/planning-a-trip/how-to-use-the-milan-metro.html
Day 3: January 2nd (Bergamo, Italy)
Up early (yet again), this time to pick up the rental car (to my delight: a red Fiat 500L), we then headed about 40 minutes outside of Milan to our next destination: Bergamo. We chose the Devero Hotel mainly because it wasn't too far from everything we wanted to visit, and it was listed at a great price (£138 for two nights). Turns out, we absolutely loved this place! It seemed to cater mostly to business travels, which is probably why the place was so empty (over the holidays), and we definitely made the most of our time there. This place was perfect as a base for exploring the area: free parking, a lush cocktail bar, a fantastic restaurant, nice and cozy, and there was even a spa. Needless to say, we loved it! The only downside is that it was very hard to find if you're using a GPS; the address of the hotel takes you to another place (nearby, but 5 or so minutes away).
Hotel Devero (Largo Kennedy 1, 20040 Cavenago di Brianza, Italy)
Slightly better address:
Via dei Chiosi, 5
20873 Cavenago di Brianza MB, Italy
GPS coordinates: 45.580321, 9.416177
Once we checked-in to the hotel, we headed straight back out for lunch to the adorable Bergamo area. This was by far the highlight of the trip for me: the village in the winter was spectacular and even magical, and we got lucky because it snowed! It was the perfect atmosphere for a wonderful lunch at the amazing La Tana restaurant. You know how sometimes it's cold and snowy, and all you want is a nice, hearty meal in the North of Italy in a cozy spot with a fireplace? Well the next time that urge comes over you, drop everything and go here! This place is perfection. We had several courses but the highlights were these handmade ravioli and the bresaola (pictured below).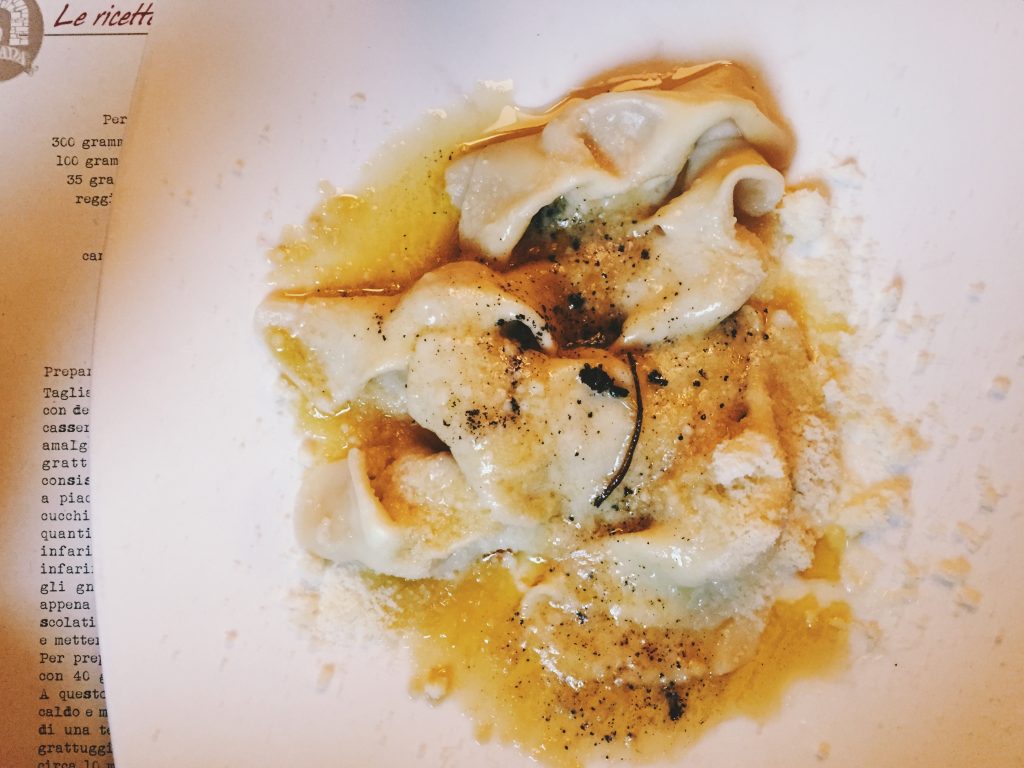 La Tana  
Via S. Lorenzo, 25, Bergamo BG, Italy
Phone: +39 035 213137
After lunch we braved the cold and took in the sights and it was well worth it! The downside is that it was really too cold to truly enjoy because we didn't have warm enough coats and boots, so we only stayed for a few hours before going back to the car. The scenery really was magical though and I would come back (with warmer clothes) in winter in a heartbeat.
The village was lovely, there weren't many tourists, and we were able to just wander around and take it all in. We came by car, but it should be noted that the touristy bit is a protected zone and only authorized vehicles can go inside. If you miss the signs indicating Zona Traffico Limitato (ZTL), then you might be in for an upleasant surprise in the form of a fine! No need to worry though – there's parking all along the perimeter.
After a long and cold day out touristing in Bergamo, we spent the evening at the hotel bar and restaurant: margaritas, margaritas (the pizza), then dinner at the Hotel's restaurant: Dodici 24. All amazing. We ended up eating in the hotel's restaurant a few times, mostly because it was convenient but also because it was really (really) good. We were pretty chill at this point and just wanted good food in a comfy setting.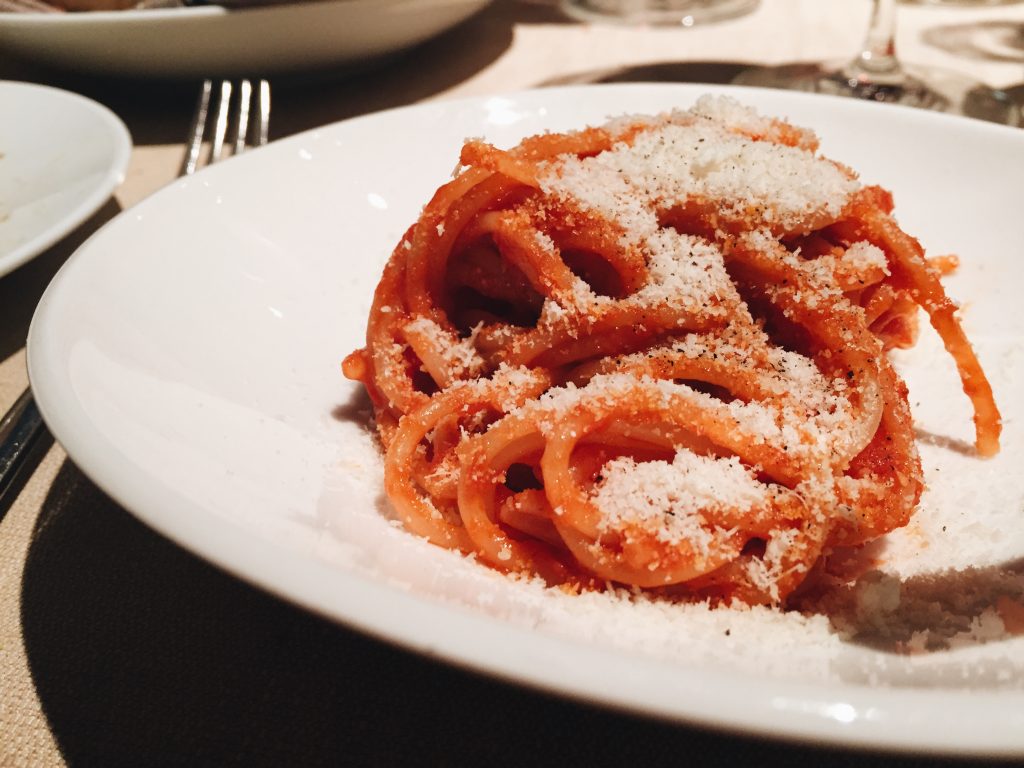 Day 4: January 3rd (Bergamo and Varenna, Italy)
After breakfast we made our way to towards Italy's Lake District and I just have to say: this was such a highlight of the trip!! The drive was gorgeous and again, a great time to visit the region as there were very few tourists and the weather made the area beautiful and everything seemed a bit mysterious. I had doubts about going during this time of the year but I can't recommend it enough. Even though it rained, snowed, was dark early and even cloudy, it didn't make me love it any less.
We stopped in Varenna to look out over Lake Como and the views were absolutely stunning. There was just so much charm in each little village we stopped in. You know how you go to a place and you want to go mega tourist and take photos of literally everything?? That's how I felt here and the 300 photos I took are proof…!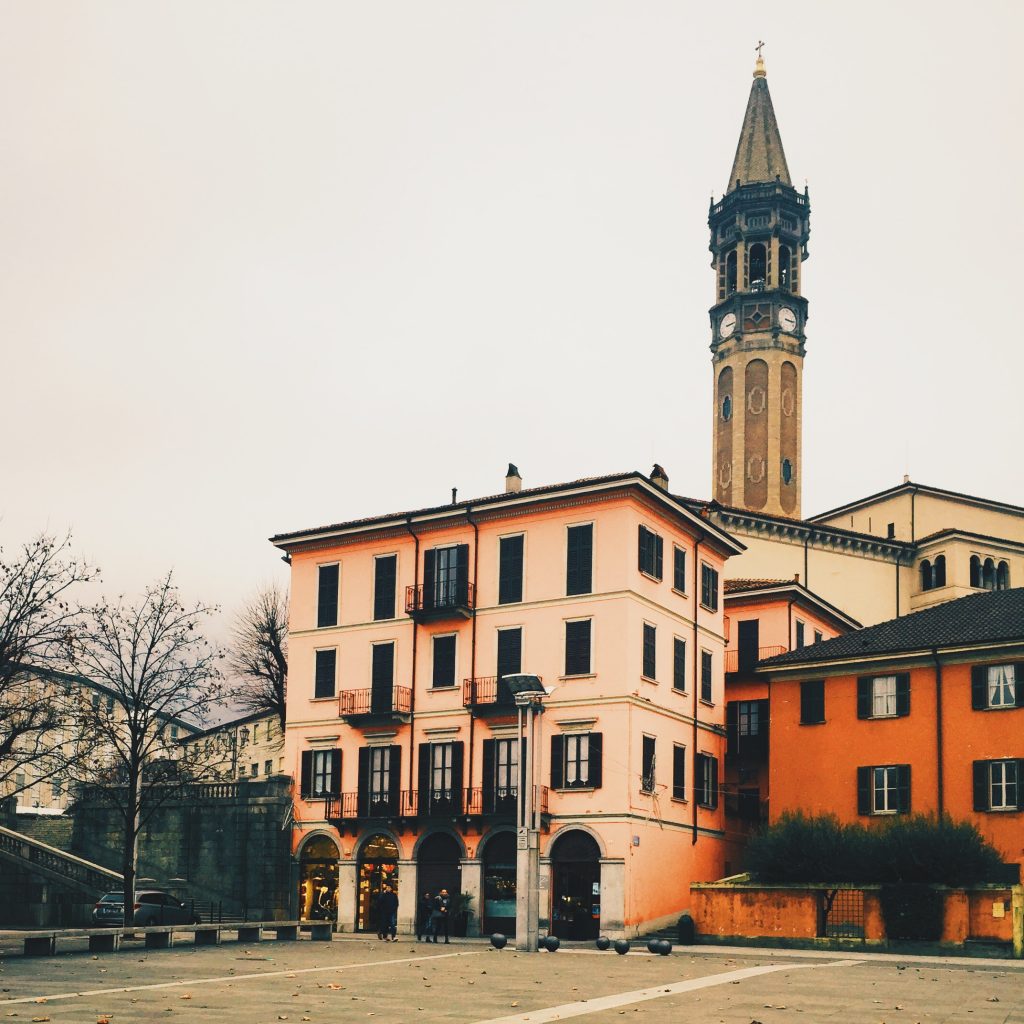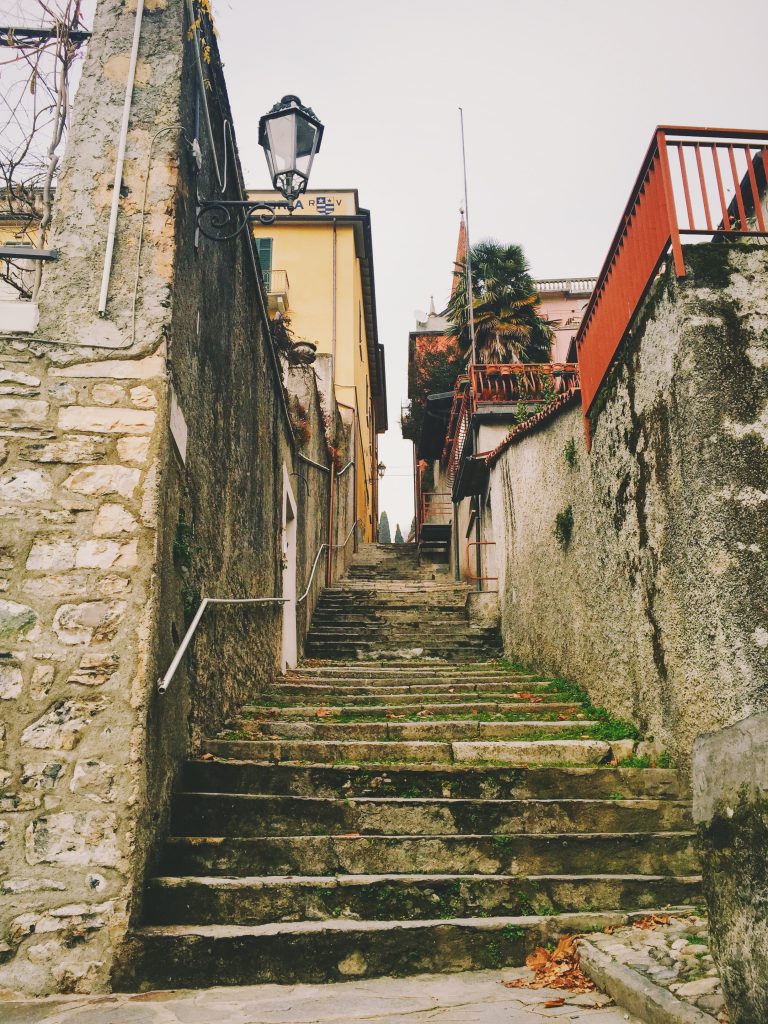 Day 5: January 4th (Milan, Italy)
We had a 9am flight back to Paris, so our 5th and last day in Milan was just returning the rental car and heading to the airport. The stress of getting gas before returning our rental car was no joke though, so if you find yourself in our position, take heed: the station doesn't open until 7am (despite having automatic pumps) and you can only pay with an Italian debit card or cash. If you need gas early, best to fill up the night before!
Even the flight home left us feeling totally charmed: gorgeous winter morning with stunning views over the mountains.
All in all, this was definitely one of the most memorable long weekends I've ever had. Maybe because it lived up to everything I hoped it would, despite the mediocre NYE in Milan. Northern Italy is gorgeous in the winter and if you rent a car and just go exploring, you certainly won't be disappointed. Granted, you won't find the vibrant colors of summer, but you'll see a different side of the usually-touristy Italy. So bundle up and take advantage of those off-season airfare and hotel deals – I'm sure you'll enjoy it as much as we did!
SaveSave