**Updated March 2018**
One of the common themes of 2016 was how crappy the year was, and how everyone just couldn't wait for it to be over. I'm not gonna lie, I found myself in that same vibe, feeling like 2016 was the longest, hardest, most tumultuous and sleep-deprived year I've had in… years. My life of gallivanting around the globe traveling for pleasure, turned into getting fully stuck in at work, traveling all the time (for work..), spending long hours in the office or glued to my laptop, and having little time to make dinner at all, let alone blog about making dinner. Without pausing to slow down, take it easy and just …chill, in I don't even know how long, one Saturday after working on some project deliverable for who knows how many hours, I decided that it was time for a break. A real break. Not the kind of vacation that I usually plan: short, a mix of city adventure and a bit of relaxing, maximizing my time but heading back home so I'm not away too long missing the excitement of being back at work (see? 'excitement of being back at work' — I had pretty much gone crazy).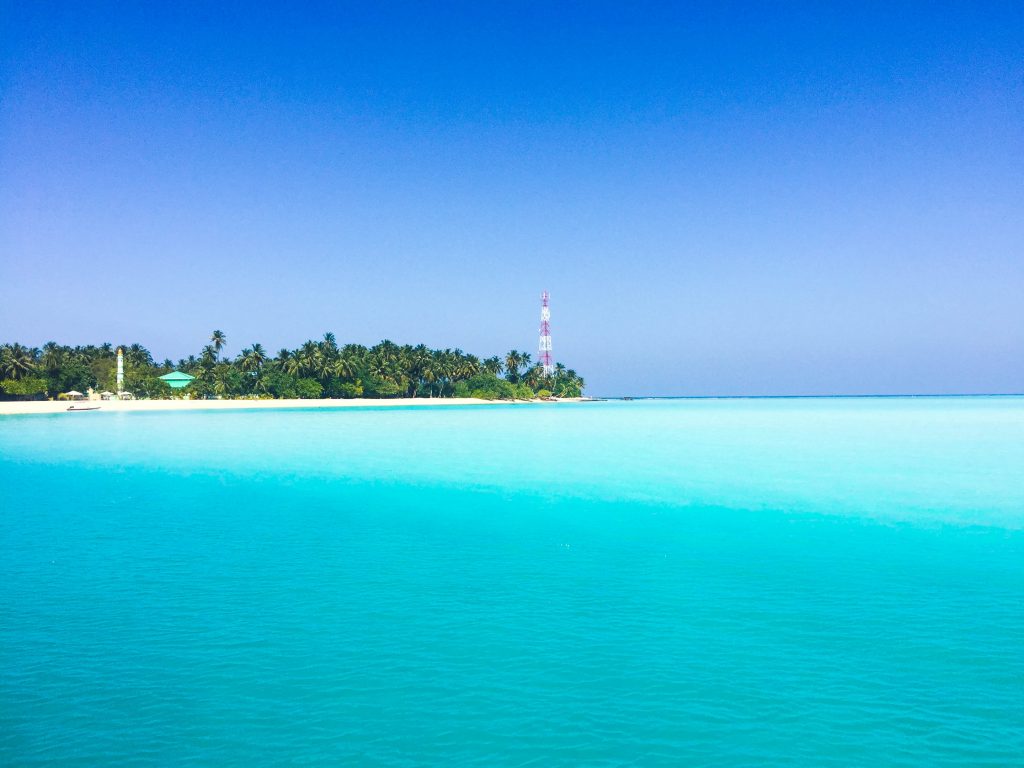 In the most perfect, serendipitous moment, I checked my email and noticed a promo for 'Summer sun vacations' – I clicked the link, saw that I could use my British Airways miles, and booked the tickets the the Maldives for 31 December – 14 January, all in about ten minutes. (Un)Surprisingly, I am not a last-minute vacation planner, so I almost immediately had buyers remorse when I realized that I knew literally nothing about the Maldives. Shock #1: hotels are expensive as all hell. Like, really, really expensive. Shock #2: it's a Muslim country and unless you're going to a resort island (read: a £££ private island), then there's no alcohol allowed (gasp) and tourists have to use designated beaches if they want to swim in a bikini, otherwise you have to be fully clothed. Right. I started thinking my mega airfare deal was a huge mistake, but decided to just go with it and started the hunt for hotels and to settle on an itinerary.
There is not a lot of information available for independent tourists planning a trip to the Maldives (ie, not through a travel agent and heading to a private resort), so I relied heavily on other blogs, travel articles and forums to find information and hoped for the best when we arrived. This multi-post series will hopefully provide other travelers with insight onto how to plan a two week trip, including all of the information that found along the way, and would have been useful to know prior to our trip. So keep reading for more details and of course, the photos!
The basics: what you need to know
Like I mentioned, travel planning for a trip to the Maldives is a challenge due to the lack of resources available online compared to other popular beach destinations like Thailand or Indonesia. Travel has only been open to the local inhabited islands for less than ten years, and it can definitely be said that the infrastructure for mass travel is not in place (and thank goodness for that). If you will be planning a trip to any of the inhabited islands, then here are a few things to keep in mind:
Money matters: the local currency is the Maldivian Rufiyaa (Rf) but U.S. Dollars are accepted everywhere. We did not bring enough cash and paid for it in exchange and ATM usage fees. Many places didn't accept credit cards, some islands don't even have an ATM, so having enough cash is a necessity.
Tourism Taxes were a pain in the butt, but are a fact of life for tourists in the Maldives. We regularly heard other tourists saying they'd gotten 'ripped off' by guest houses or in shops, but that was because they didn't know about the heavy taxes imposed on tourists. There are several different taxes and one-off fees, but it all adds up to being taxed to about 22% of your hotel stay in most cases. That's right, on our $1000 bill for the Rihiveli resort, about $220 of that was tourist taxes and fees. Just imagine what that adds up at more expense resorts…!
Internet and phone usage was tough because my cell phone's data roaming did not work at all in the Maldives which was a pretty big shock (my Lonely Planet suggested that roaming would work fine, and we had four cell phones with us each with different providers and none of them roamed. ever). Getting by without any data would have been challenging as we constantly found ourselves having to look things up. Luckily, there are phone shops in the airport where you can purchase SIM cards (make sure your phones are unlocked before you leave home). For $32 each, we got two-week plans with a certain amount of texts, phone minutes and 15Gb of data. Yes, 15Gb of data.
Getting around is probably one of the trickiest aspects of visiting the Maldives, especially if you want to visit more than one island and don't want to have to sell a kidney to pay for it. The ferries are amazing though and we found them easy to figure out and for the price ($1 or $2, usually) was the best option for us when the timetables fit with our itinerary. The MTCC website will be your best friend if you want to use the ferry system there.
The mosquitos are no joke and I have never gotten so many bites as I did in the Maldives. They are always around, day and night, and they are ravenous little monsters. They will get you through your clothes on the tiniest little patch of skin that didn't get enough bug spray. I foolishly didn't bring enough of my usual mosquito spray (Lifesystems Exped+) and ran out after a few days, but we were able to get by using the local products sold in the shops.
I knew the weather would be beautiful but I really didn't know what to expect in terms of rain. We were there for the first two weeks of January and the weather was stable around 28 degrees each day, with plenty of sunshine. It rained a few days out of the trip (one day is was particularly torrential). The early mornings and evenings were cool, and I was glad to have packed my big blanket-like scarf.
The beaches were the biggest unknown for me, as I wasn't sure if I'd actually be able to sunbathe without being completely covered. I kept reading about these so-called 'bikini beaches' but didn't know what that meant or if each island had one. Indeed, every island that we visited had a designated beach area for tourists where women could wear bikinis, as well as an island beach where we had to be covered.
The only Muslim country that I had visited prior to the Maldives is Morocco (one day I will post about that absolutely awful experience), so I wasn't sure what to expect as a woman traveler in the Maldives. I knew that most women would be fully covered and that tourists were obviously expected to respect the local culture and religion, ie modest clothing when not at the designated tourist beaches. But how strict would it be, and how covered was covered? Our guesthouse hosts were very helpful an explained that Jonathan shouldn't walk around bare chested, and I shouldn't walk around the village in my bikini. So all in all, I'd say it wasn't very strict. We were told that I could be in shorts and a t-shirt without offending the locals, and I never got any stares or disapproving looks. If the seemingly-conservative laws are putting you off visiting and you're worried that you'll be uncomfortable or offending the locals, I'd say don't worry about it. Our days were spent at the beach and I was perfectly happy in jeans and long sleeve t-shirts in the evenings to fend off those damn mosquitoes anyway! All of the (few) tourists we saw were in shorts/t-shirts or tank tops, and bare shoulders for women were fine.
Excursions and activities were expensive pretty much everywhere we went, but there are ways to keep costs down, like bringing your own snorkeling gear and exploring local reefs on your own for free! The gear we saw for rent or for free from hotels was often old and damaged.
Islands are expensive because so many things are important, especially food and snacks. Most of the guesthouses and hotels included free breakfast, but I'd recommend bringing some snacks from home that you can bring with you to the beach. Eating in restaurants for every lunch & dinner gets old real fast and those $10 meals add up quickly for two people over a two week period of time. I stocked up on chocolate bars, sweets and savory snacks in London which added a bit of variety to our daily meals.
Before you start reading about our experiences on the five islands that we visited, you might be wondering how much all of this cost us. For our 14-day trip to the Maldives, visiting five different islands and enjoying almost everything that they had to offer, we spent around £1,800 for accommodation and approximately £800 on speed boats/ferries/taxis, food, activities and anything else other than hotels basically. We used air miles for our non-stop tickets from London to Male so only paid taxes of around £500. So for £3,100 total we had a pretty lush vacation in the Maldives, experiencing both sides of the tourism industry: the luxurious private resorts and the more down-to-earth local inhabited islands. The main thing that we learned is that you can totally do the Maldives on the cheap if you want, and you'll still get that Maldivian paradise experience. We could have spent much, much less on hotels and reduced that cost by at least half, and also spent way less money on food (we spent around £300 at Rihiveli alone, in three days…). Fourteen days is a pretty big trip and if I had to do again, I'd probably stay for around 8 or 9 days instead. Excluding airfare, when looking at hotels and costs, I reckon that a daily budget for two people of around £75-100 is totally do-able, including housing and food. You should then factor in additional expenses like snorkeling trips, which range from £50-£100. For the stunning beauty of the place, it's worth it, many times over.
The Maldives are not a budget destination but the idea that you have to spend a fortune is definitely a myth, if you just do a little bit of research.
I've created separate posts for each island that we visited as there is just so much to say and so many photos to share. Links to the other posts in this series are below. Enjoy <3
Part 2: Maafushi
First days: arrival and Maafushi
The Malé International Airport is very small, despite servicing international flights, but border control is a smooth process. We couldn't be bothered to make our way by ferry to Maafushi as this would have required a taxi and a short shuttle ferry, then a long wait (we arrived in the morning but the ferry leaves at 3pm) and it takes two hours to reach Maafushi. So we went with a speedboat transfer (for $50 for both of us) with iCom that we found by going to the information desk right in the airport. The ferry option would have been much cheaper (around $4 for two of us), but with the hassle and wasted time, it just didn't seem worth it. Though if you are on a very tight budget this is definitely a viable option, details for which can be found on this helpful blog post: Expat of the World.
Our first impression of the Maldives after arriving at the airport was Maafushi, and we were not disappointed. The island felt small but relatively busy (relatively being the key word), and there were a decent amount of tourists, and lots (erm…relatively) of options for food. There's also a Booze Cruise about 2-3 minutes away by speedboat, which was surprisingly amusing, and drink prices were more than reasonable ($5/beer). This is where we spent NYE, on a party boat off the coast of Maafushi sipping canned beer watching the fireworks on the surroundng islands. Then, watching the locals and tourists get down on the dance floor, trying not to slide around on the rocking boat. It was memorable, to say the least. Maafushi was the only inhabited island where we were able to get alcohol nearby, so if that's your thing, then just ask in your hotel and they'll explain how to get to the Party Boat.
The bikini beach is too small for the number of tourists (then again we were there over the NYE holiday so perhaps more people than usual), so we went to the other side of the bikini beach (near Arena hotel). My research tells me that that was recently construction on the bikini beach so perhaps the side we were on has recently been developed. In any case, it was empty so we opted for that. It had more rocks and the water wasn't as nice, but for relaxing after a long day of travel was all we needed anyway.
Not as nice, the beach sand isn't smooth, a bit dirty etc, but was enough for us. I would definitely *not* recommend Maafushi for the entire duration of a Maldives trip, which is what we almost did. There are so many other options on other islands within the same price range, and easily accessible, that it would be a shame to spend the majority of your time there. The people in Maafushi were really lovely and even though we were only there for a few days, we had a distinct feeling of belonging; folks regularly said 'hello' to us when we were out and about, and we felt particularly welcome. But for us, Maafushi definitely did not have that Maldivian paradise vibe and we certainly didn't come that far for a crowded beach and expensive not-great food.
I came across a few blogs and forums of people saying that Maafushi is a good budget destination if you're looking to keep costs low and still enjoy the magic of the Maldives. I really cannot agree with that advice, and I'm glad I didn't take it when planning our trip. The other inhabited islands that are accessible by ferry have much more to offer in terms of natural beauty, great people, and an overall authentic Maldivian experience.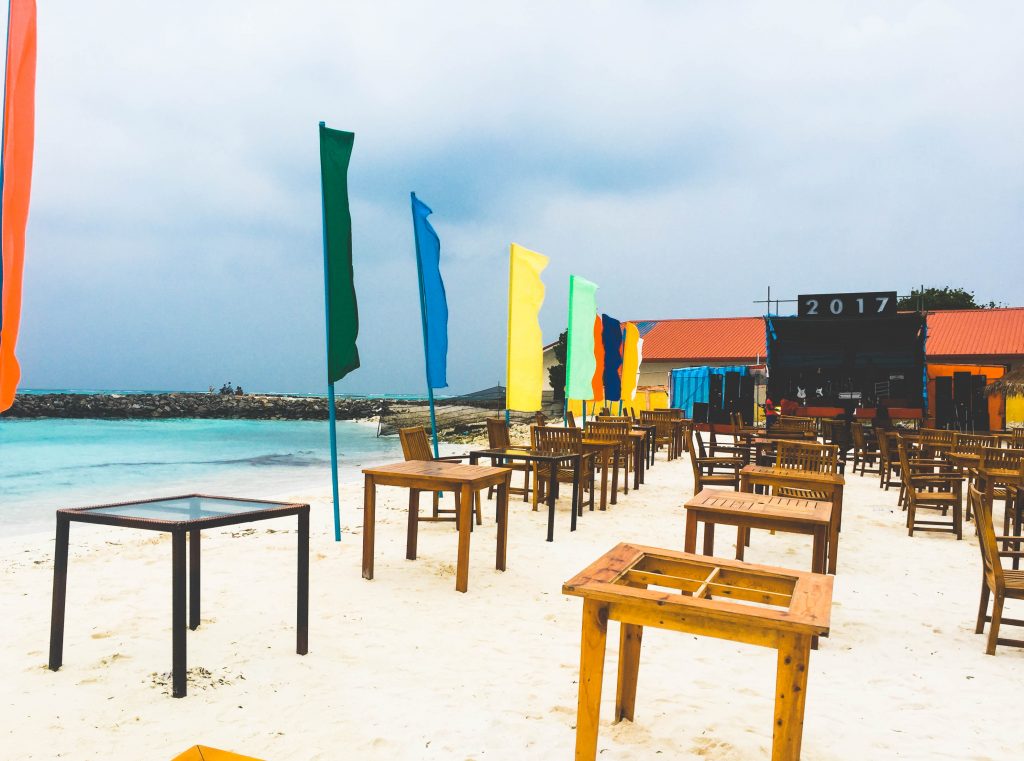 Don't get me wrong, Maafushi is nothing to turn one's nose up at, but if you've already made it to the Maldives, then keep going… there are lots of other equally (if not more) affordable Islands than Maafushi (like Gulhi and Fulhidoo), with far less tourists and much more beautiful beaches. The advantage of Maafushi lies primarily in how easy it is to get there, as we know transport between islands can be costly. My recommendation would be to view Maafushi as a (gorgeous still) hub, as you make your way to other smaller islands.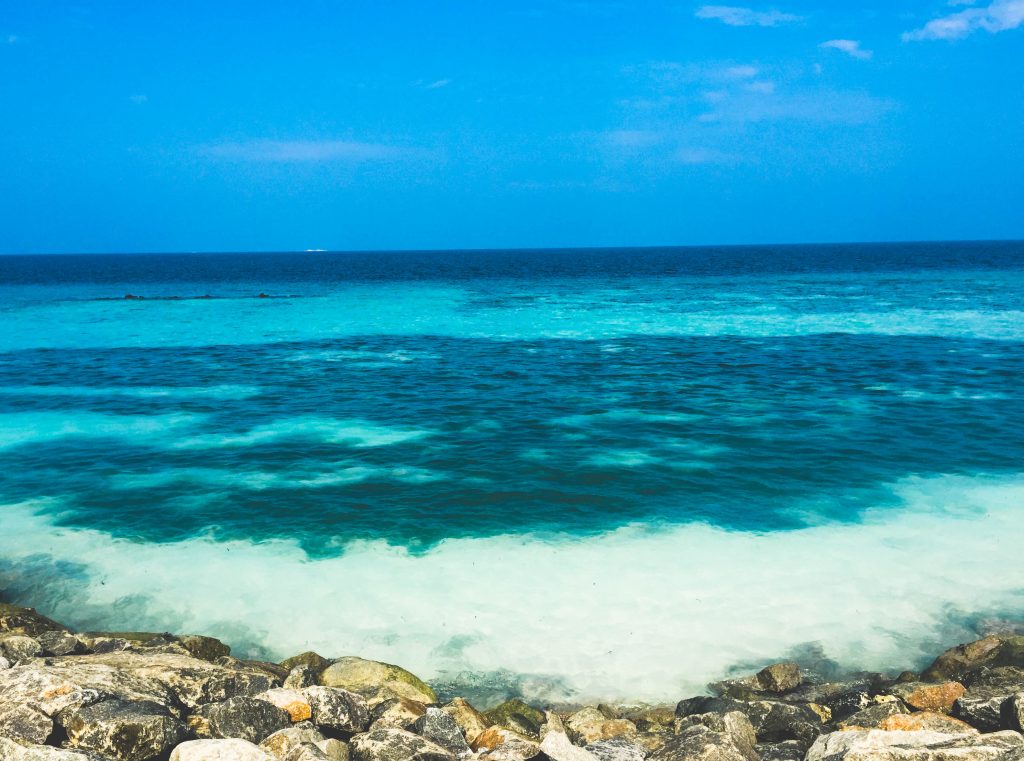 Maafushi is a hub and one of the bigger islands in terms of amenities, so you have several stores to stock up on the basics like sunscreen, mosquito repellent, and sweet & savory snacks, and drinks. Don't expect to do any shopping though, we're talking bare essentials. There are several water sport options in the hotels and guest houses, but they seemed more expensive than the other smaller islands. The food options are primarily the restaurants attached to each hotel/guest house, except for 'Hot Bites' which was pretty nasty so that does not come with my recommendation! Food in Maafushi was overall disappointing, with the exception of Velana which was surprisingly reasonably priced for semi fancy food.
We stayed in the Crystal Sands hotel, and it was fairly basic and clean. To be fair it was one of the nicest guest houses we stayed in as felt quite modern and new (relatively), and the staff was really nice (special shout out to Jack Sparrow).
There are lots of places to choose from in Maafushi and the island is small so no matter where you are, you're not far from most things, including the beach. It should be noted that there is a prison on one side of Maafushi and that is not the nice side of the island; the sewage drains into the water over there, there's an abundance of trash, and the beach is generally not maintained at all…and it smells bad. So I would avoid hotels over there! Crystal Sands is ideally located, though, and a good deal for what we paid as it included breakfast in our rate and they have a roof terrace that you can relax on if you don't want to be bothered with the swarms at the beach.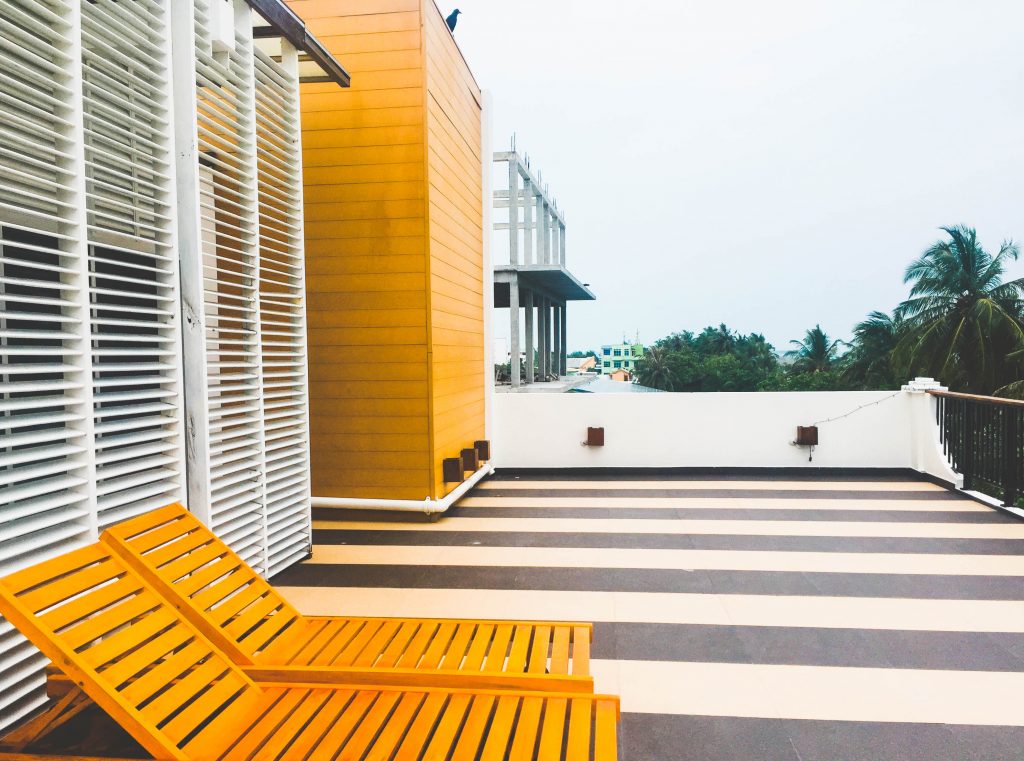 Maafushi is a great location to spend a day or two in if you're in the Maldives for an extended period of time. Otherwise, for a short trip I would definitely recommend skipping it and heading to one of the other nearby islands, like Gulhi.
Part 3: Gulhi
Gulhi… I'm not sure why, but this place really made me feel some kind of way. There was very little information available on the various islands, so the decision-making process was straightforward: can we get to the island with relative ease, are there decent and affordable housing options, and is there a bikini beach. Gulhi seemed to tick all the boxes, so it made its way onto our itinerary. The lead up to this trip for me was a bit frantic as I was working pretty much up until a few hours before our flight, so I didn't have much time to liaise with our hotels, advise of arrival times etc. We opted to take a speedboat from Maafushi to get to Gulhi and it was worth it, quick and cheap and we weren't constrained to follow the ferry timetable.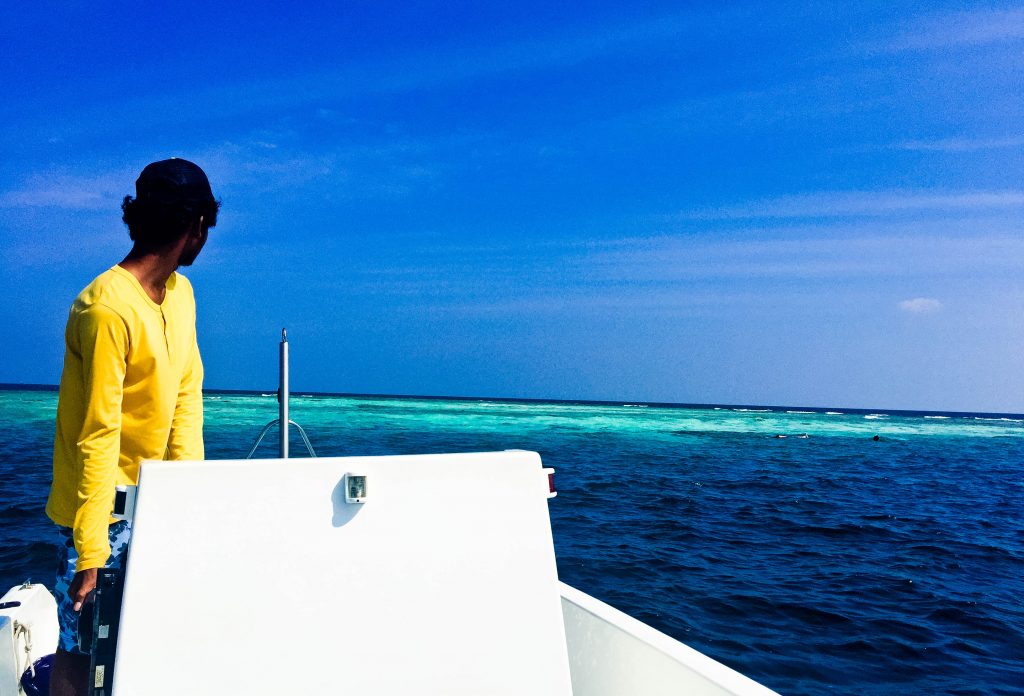 Because each island is so small and there aren't exactly droves of tourists arriving each day, you really need to let your Guest House or Resort know when you'll be arriving, because they usually need to make arrangements to meet you at the jetty, or at least be at the guest house when you arrive on the island. I didn't do any of that though *and* we took a speedboat instead of the scheduled ferry so we arrived several hours earlier than our hosts were expecting. When we got to Gulhi people near the jetty looked surprised to see us and asked where we were going. We told them the name of our guest house and they grabbed their cell phones and called our hotel to tell them to come meet us. Within seconds a young guy arrived with a wheelbarrow, grabbed our bags and led us to the Orchid Island Lodge only a few meters away from where our boat dropped us off. After Maafushi, Gulhi seemed deserted and 'touristy' is not a word one could ever use to describe the place. Oh boy… so this is what a remote island with a population of around 500 people is like!
I'm not particularly sentimental, but a very distinct feeling of sadness washed over me as we waived goodbye to our hosts from our speedboat taking us to Gulhi. This place is special. I'm not sure if it was the sincere niceness of the locals we met, or the absolute stunning beauty of the beaches, or simply the absolute calm and relaxation that we experienced there, but this place has something and whatever it was, it was exactly what I needed.
The island itself is not particularly nice, there are lots of half-built buildings (presumably destined to be more tourist guest houses and hotels), and there's a bit of trash around the island that takes away from its natural beauty. The beach is stunning though and there's decent snorkeling without swimming very far from shore.
The restaurant options in Gulhi were definitely limited *but* the food there was the best of the three inhabited islands that we visited. If you love rice and noodles, or noodles and rice…or more rice, then you are in luck: nasi or bami goreng are always on the menu and it was delicious everywhere we tasted in Gulhi. And very, very cheap. The idea that food is expensive in the Maldives definitely applies to certain places, but Gulhi is probably where we spent the least money on food. One of our fave spots was the Surfista Cafe, which offered up a menu with a decent amount of options all at reasonable prices.
Our hotel: Orchid Island Lodge – to say that the hotel is not fancy is an understatement. It's probably one of the least-nice rooms I've in fact ever stayed in. It's humid, the bathroom is more of a wet room, the bed was hard, the ceiling fan was loud, there was damp around the moldings, the furniture was falling apart in places. But I didn't care. At all. My experience in Gulhi and the authentic niceness of our hosts and of the people on the island made up for it. They organized a snorkeling trip for us which turned nothing short of magical when around 15-20 dolphins showed up to the party and played around the boat. It.was.so.cool!!
Our days on this island were simple, and we didn't have to think about much other than to just go with the flow. Ideally placed about 50 meters from the Bikini Beach, there's only one other hotel which seemed closer (which is pretty much right on the beach). If you're looking for luxury, then this ain't it. If you're on Gulhi Island to begin with, though, you probably aren't though! The tourist beach in Gulhi was wide with fine grain white sand, and the water is warm and calm. There were tons of fish to explore right off the beach, and there were maybe 10-15 people on the entire beach at its busiest times.
We were provided with beach towels at the hotel, and they have allocated plastic beach chairs for guest use. The Guest House has three rooms, so never feels crowded. The internet connection as OK, though we relied on it very little since we had tons of data on our cell phones.
Access to the bikini beach was very easy and only a few minutes away from each hotel on Gulhi, and the beach is surrounded by a barrier so as to prevent the locals from seeing.
Breakfast was eggs, sausage (chicken hot dogs lol), toast with jam/butter/nutella, fruit, coffee and juice. If you visit the Maldives for a few weeks like we did, then you will grow to hate this breakfast after about Day 5 of eating the same thing every day, so I'd suggest you mix it up and swap out the eggs/sausage for a piece of fruit and toast.
The hosts though, are what made this place special. They are just so incredibly attentive, helped us with everything we needed, spoke great English so communication was easy, and were just…lovely people. Objectively, Fulidhoo is probably more beautiful (ok, it is) but in Gulhi, we had the best of both worlds: gorgeous beach *and* amazing people.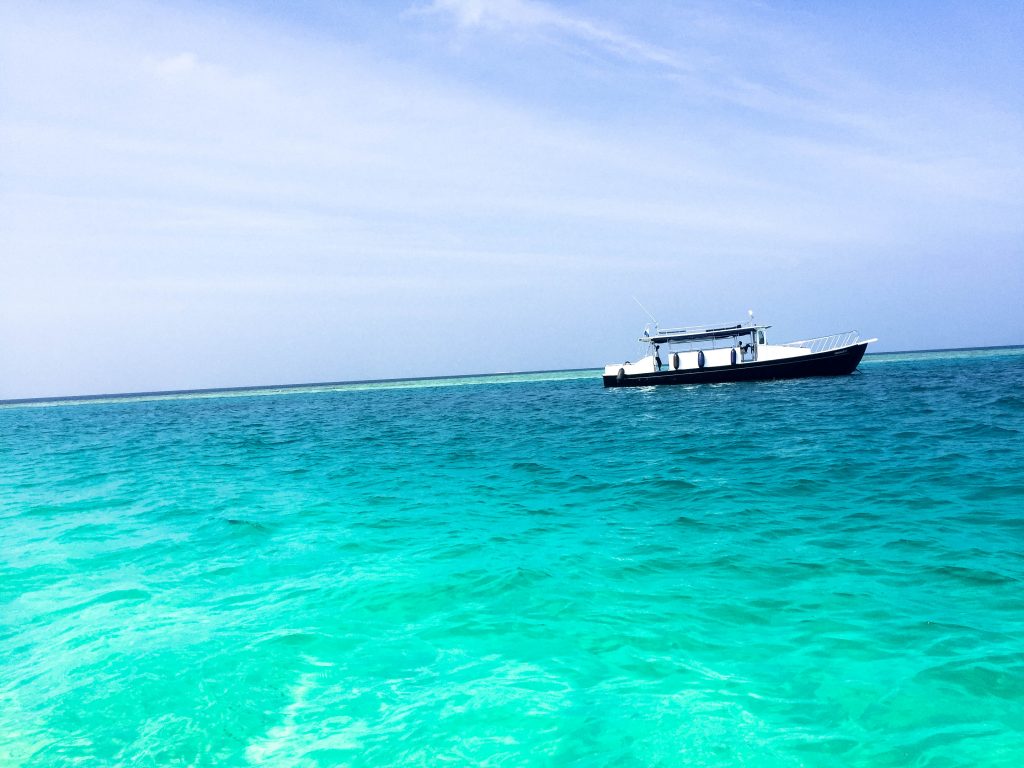 Part 4: Fulidhoo
The ferry from Maafushi to Fulidhoo takes about two hours, but it goes by quickly enough. You ferry past several resorts on your way, so you can catch a glimpse of some of the famous water villas of the luxurious resorts. As the ferry pulls up to the Fulidhoo jetty, you will definitely have a 'whoa this is crazy beautiful!!!' moment: the water is bluer than blue, and island is dotted with palm trees, and the guest host staff are all waiting to welcome us to their gorgeous island. I heard the phrase 'postcard beautiful' many times from other tourists and that's the best way to describe it. This place feels like paradise…because it is.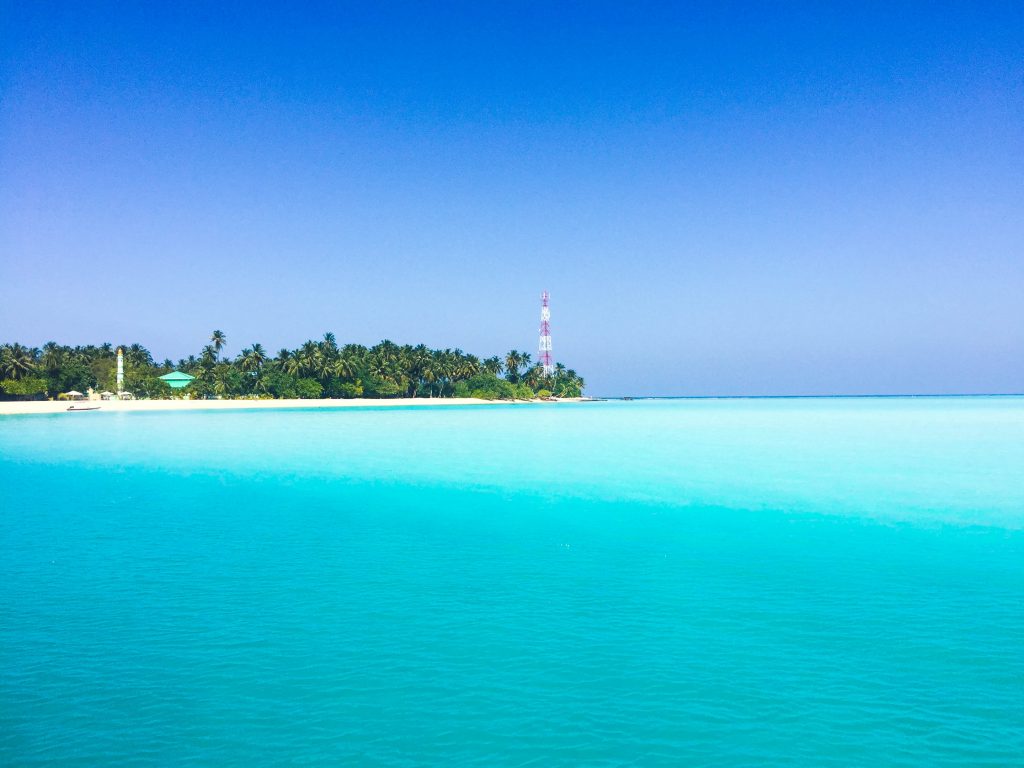 The ocean is calm and shallow (which is how I like it, but if you want waves, you're out of luck), and the sand is lush and doesn't get too hot. Unlike Gulhi's bikini beach, this one is on a slant, which makes it a bit tough to find a good comfy spot. There are two parts to the beach, and plenty of room for the small number of tourists on the island. I'm a notorious water-phobe, but if you can't swim in the ocean off of Fulidhoo's beach, then I'm convinced you can't swim anywhere. The temperature is just right to cool you off, it's totally clear and transparent, and it doesn't get deep for several meters away from the beach (hmm maybe more than 100?), so you can really just float around and relax.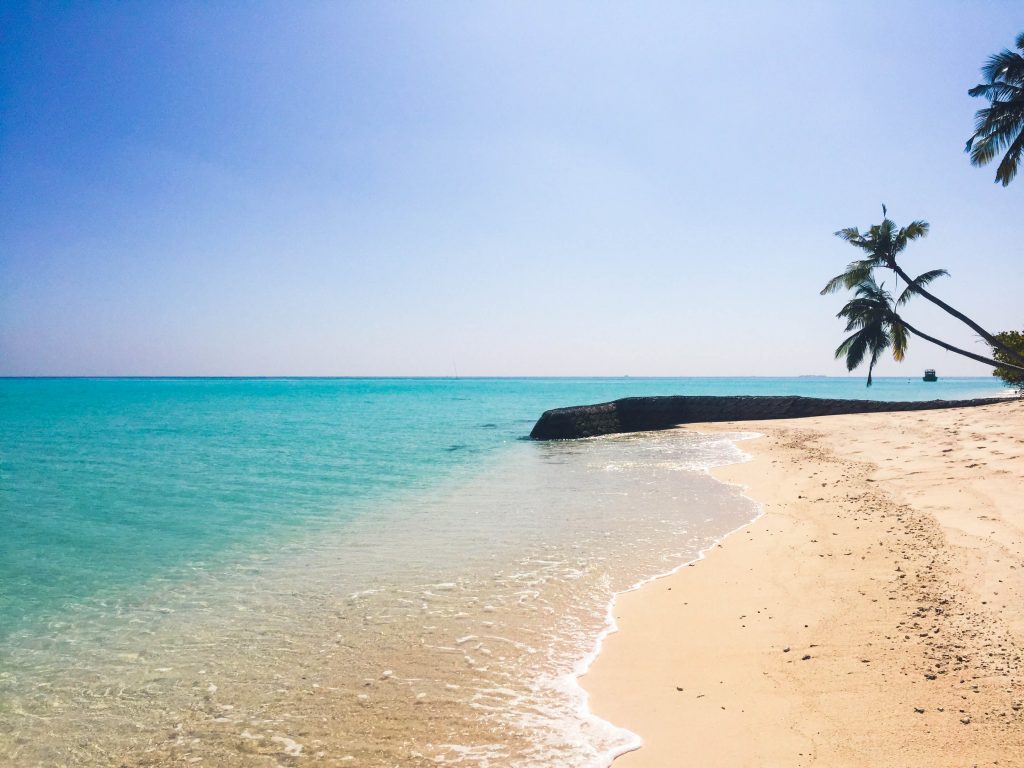 The palm trees make for a picture-perfect setting… and then you realize that the view of the sunset from the beach is insanely beautiful, and you realize that you've actually found a tiny bit of heaven on Earth. So yeah, Fulidhoo's tourist beach is nice.
The people in Fulidhoo seem slightly more reserved than Gulhi, but our Hello's and Good morning's were always met in kind, and as tourists we felt both welcome and valued by the locals. With a  population between 200-400, it goes without saying that everyone knew who we were, and everyone knows each other. Fulidhoo is crazy small, but if you're looking to get away from everything and …just chill, then this is it. As a matter of fact, the Maldivians are definitely down with just chillin' as evidenced by these hammock-chairs that you will see everywhere, on every island in the Maldives. They look a bit uncomfortable tbh, but you'll be pleasantly surprised with how relaxing they are!
The excursions were a bit disappointing as it seems that lots of the coral is impacted by the unfortunate worldwide phenomenon of coral bleaching, so not much to see in terms of fish. We went to 'shark point' though and that was insane and made the trip worth it, from that alone! We took a speedboat about 20 minutes out, to a shark feeding point near one of the resorts and yes… everyone jumped out of the boat and swam with sharks to snorkel and watch them feed. A surreal experience not for the faint of heart, but very, very cool. The sharks are apparently the 'friendly kind' ("like the Maldivian people, the sharks here are very polite", according to our Orchid Island host in Gulhi lol). So they posed no risk and were about the size of small dolphins. But still… swimming with sharks, y'all!
The island, much like the other inhabited islands, felt very much under construction, often littered with trash and construction materials, and with lots of half-built hotels or houses.
We stayed in the Thundi Guest House and were pleasantly surprised, both by the chill vibe at the hotel as well as the reserved but nice owner. In the spirit of 'crescendo itineraries' (starting with more modest hotels and activities, ending on a high note slightly more lavish) that I tend to do, Thundi was definitely a step up as far as the facilities go. A short walk from the jetty, the guest house has three rooms, and a serene outdoor seating area where we would have breakfast and dinner each day. We were half-board, so didn't have to bother with finding food on the island if we didn't feel like it. This place has a definite backpacker vibe, was very laid-back, and the other guests were lovely and the first time we really spoke much to any other tourists during our time in the Maldives so far. The communal-style (gorgeous wood) picnic table was great and our co-tenants were fab. The breakfast options were Maldivian-standards (continental or local options) and very filling. The dinner though, is where this place shines. Seated outside in the small courtyard, each group (again, only three rooms) had their own table and the food was brought out in a very family-style sharing setup. We had rice, noodles ('spaghetti'), salad (cole slaw) and grilled fish, followed by a fruit plate. On Friday we got lucky and got to partake in a complimentary beach side dinner, followed by traditional Maldivian music and dancing. Y'all…it was absolutely amazing and something that J and I won't soon forget.
The Thundi Guest House was only available for some of the days we needed, so we moved after a few days to the Kinan Retreat. Off to a rocky start, our hotel room wasn't great so we had to move (freezing cold water in the shower), and the new room was smelly and didn't feel as nice. The staff doesn't have a strong level of English so communication was difficult, and the place is closer to the Island's Mosque, so we heard the call to prayer throughout the day much louder than at Thundi Guest House. They don't provide shower gel, shampoo, or anything really other than the room and towels. That's the bad. The good… the hotel felt brand new, slightly more upscale in general, and has a nice and airy seating area in the front part of the hotel, looking onto the beach. The view definitely saves this place, and the sound of the ocean's gentle waves tumbling onto the beach were an unexpected and fab bonus. I'm glad we experienced both the Thundi Guest House and Kinan Retreat on Fulidhoo, though, as they both offer totally different experiences. Thundi's guests seemed very laid-back and younger, whereas Kinan's guests are either groups of a few people or families with children.
There were a few (two, to be exact) general stores on the island which we ended up visiting every day to stock up drinks and mosquito repellent when we ran out. They sell basic snacks like cookies and candy bars as well as instant noodles, soda and water, and other random stuff. We kept going in there hoping a delivery with more options to choose from miraculously arrived, but alas it never did, so we continued to buy faux pringles, nuts, and cranberry soda.
We originally planned to spend six days on Fulidhoo but after a few days there we got pretty sick of it (which feels weird to get sick of such an amazing place), so we cancelled the last night in our hotel and hopped on the Ferry back to Maafushi. We didn't really have a plan of where to go, but I spent 30 minutes calling around to various hotels on islands near Maafushi until I found one that would come pick us up from Maafushi by boat, and take us to our next island Rihiveli, for a reasonable price (ie, less than the $400 everyone else seemed to be charging). And like some of the best experiences in life, totally unexpectedly, we found ourselves on a tiny dingy heading away from Maafushi to Guraidhoo. And I am so glad that we need, but not for the reasons that you're probably thinking. Keep reading part 5 to hear about it!
Part 5: Guraidhoo
Like I mentioned in part 4, me and Jonathan were pretty fed up with Fulidhoo; we weren't overly impressed with the people, the Kinaan Retreat was good on paper but in reality was kind of annoying with the hideous smell in the bathroom and the noisy guests (the hotel was full during our stay) so we decided to gtfo and packed our bags with the quickness and checked out. Kinaan staff graciously did not charge us for the night we cancelled, and I called around (a lot) to track down a hotel that would a) come pick us up from Maafushi — where the ferry would drop us off — for a reasonable price b) arrange our speedboat transfer to the Rihiveli Resort, which was our next destination. I left this one up to universe, and the first hotel on Guraidhoo that answered the phone was Raakani Villas & Spa.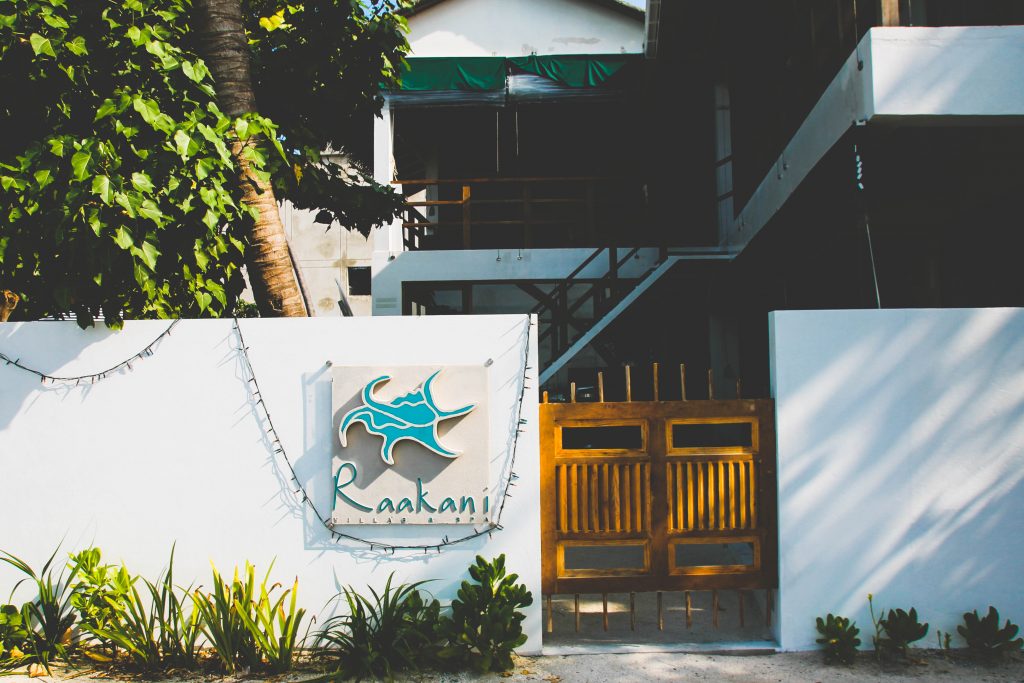 The owner answered straight away, and after I explained our situation, he immediately jumped into action and said he'd sort it out and to call him back in five minutes. When I did, he had already managed everything and simply needed to know what time he should have his boat in Maafushi waiting for us. Off to a great start with this hotel… that I didn't even have a reservation in! Not only did we not have a room booked, I hadn't even looked at the hotel's photos, amenities, or reviews (turns out they don't have any yet…) and just went for it. The Maldives had put us into such an easy going mood that we were pretty much up for anything. Turns out that sometimes just going with the flow, even when it's totally unplanned, can sometimes really work out: we absolutely love this place!! The hotel we loved immediately, but the island took a while to grow on us, but I'll get to that later.
There was a pretty heavy storm during our ferry ride over to Maafushi, and when we arrived, the jetty was empty (unlike when we arrived into Maafushi the first time and all of the guest houses were waiting for there customers), and there definitely was no speedboat like we had arranged with the Raakani owner. So, we said goodbye to Arora and Mundy (our friends that we met at the Thundi Guest House on Fulidhoo) who were also on the same ferry, and waited. And waited. And then, I started to worry. I started realizing that I spoke to some guy on the phone who said that he'll send a speedboat to pick us up, I don't know his name, I don't have a reservation in his hotel, and all I have is a cell phone number.
Right when panic mode was at 100% and I was pulling out my cell to call the number, my phone rang and it was the owner of the hotel letting me know that they guys had some difficulties because of the storm (duh of course they did because they only had a tiny boat…) but they're on their way and will be there soon. When they finally arrived 15 minutes later, I understood what he meant: this was the smallest boat I've ever been in and I'm still not quite sure how we made it with all of our luggage, and four people on the boat, without sinking!
But made it, we did and I was so happy to be alive after the ten minute journey that I forgot to worry about the fact that I had no idea where we were going to stay and whether the hotel would be awful.
In the end, we loved it, even though the Island of Guraidhoo itself wasn't necessarily mega impressive. So we decided to book an extra night at Raakani to just relax and hang out. The staff were sincerely some of the nicest people I've come across in all of my travels, and I am totally without a doubt sure that's why we stayed and why we enjoyed our time there so much. While there was no beach directly out front the hotel, there was definitely an incredible view, where we saw fish jumping out of the water in the hundreds and birds swooping in to grab them.
Guraidhoo is a special place for a few reasons which I'll try to capture in this post, but honestly you have to experience it to understand. The island itself is supposed to be bigger than the other islands in terms of population but it felt tiny. I must have seen about twenty local residents, and even fewer tourists. The population is supposed to be 1800 people but honestly, we really only saw about twenty locals out and about… no exaggeration. Then again maybe they were on vacation themselves on other nicer islands…! Not ones to be defeated, we hopped on a kayak to go explore the island from the water and that's when things got real: this place you guys… that water… can you see how blue it is!?
This is when we realized that on a 14-day trip, taking a few days off on an island that didn't have a perfectly curated beach was no big deal. One of the things about the Maldives in general is that there's not much to do other than swim, laze on a beach, and relax. But because we couldn't really do that in Guraidhoo, we explored. We walked around the island. We checked out the nearby mini-island connected to Guraidhoo by foot bridge. We wandered around and tinkered about the local shops. We hung out at the Raakani. We read. We relaxed. We just enjoyed ourselves with no pressure to do anything other than just…chill. Notice a common theme here?
One of the things that I spent time researching prior to our trip was the availability and niceness of the tourist bikini beaches that each island had to offer. I was all about doing a budget trip but not at the expense of seeing gorgeous white sand beaches and getting that paradise vibe. Guraidhoo does not have one of those gorgeous bikini beaches like the other islands, but paradise it still manages to be. The view from the Raakani hotel is breathtaking as you look out onto the sea from the top floor balcony, and the sun shines gloriously into the windows of the door throughout the day.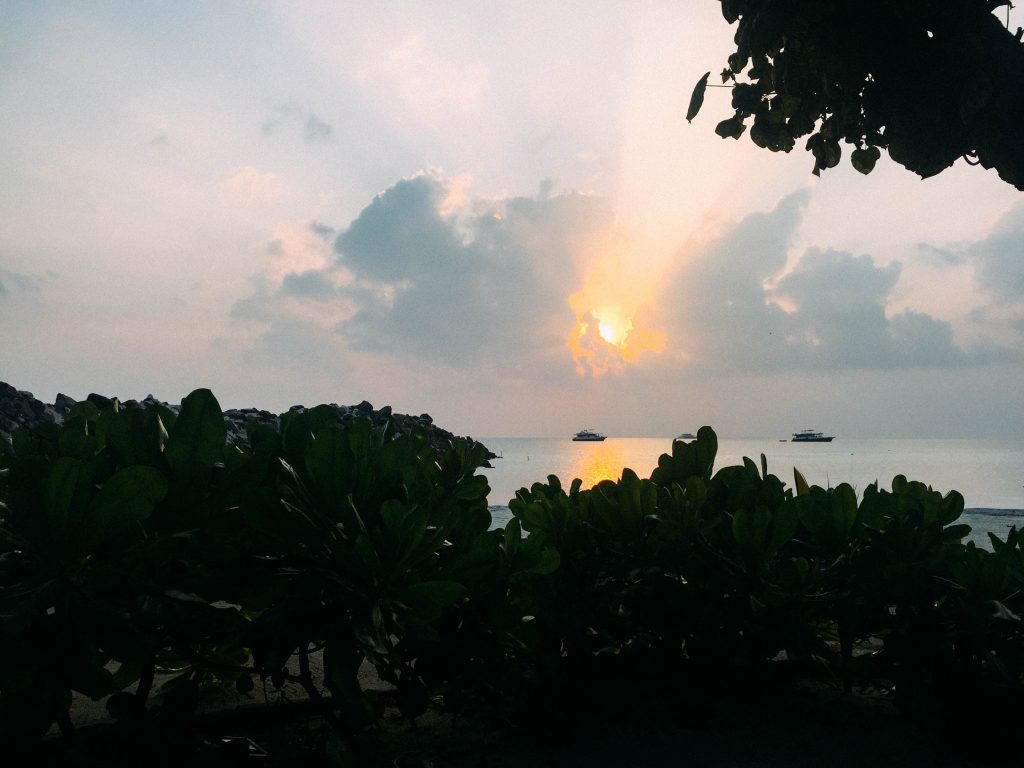 When we went exploring on our kayak, we went all around the island, goofing around, playing in the mini-waves, and paddling around to the Holiday Inn which is very close (pretty much on Guraidhoo itself). Then in a moment of pure wonder we stumbled upon…A BEACH!! A white side, little stretch of sand, but a beach all the same! Because we arrived late in the day, when we originally explored the tide was low and the 'beach' area looked absolutely gross. All the water had receded, and all was left was muddy, rocky, pools of grimy looking water. So we never came back, not realizing the transformation that the area would take if we came just a little bit earlier, and went a little bit farther. I didn't take many photos, and even this one doesn't do it justice but you get the idea. A real, sandy white beach right on that tiny little unsuspecting island of Guraidhoo. So they officially have everything it takes to be a true 'beach vacation' destination.
I'm not gonna like, Gulhi, Fulidhoo and even Maafushi all had nicer beaches than Guraidhoo. But… if you have enough time to go exploring and you happen to be within easy reach of Guraidhoo, then I recommend it. No, you probably won't spend a 2-week holiday here, but it's worth a pit spot for sure. If only to stay at the Raakani hotel, and enjoy their view, their ridiculously kind and generous staff, and their gorgeously designed rooms. We felt refreshed and invigorated when we hopped on our familiar tiny boat on our way to Rihiveli, and that is exactly what makes for a perfect vacation destination.
As for lodging, I can say without a doubt that Raakani has the best location on the island (though there are some nice stretches of sand on the opposite side, they aren't maintained yet and when the water recedes it looks pretty ugly). I'm all about reserving hotels on booking.com, both for ease and assurance that I will probably not get scammed if I carefully read reviews. We booked directly with the Raakani hotel however and we got a much better rate, and I felt better giving all our cash to the hotel instead of giving a cut to booking.
This unexpected destination on our itinerary was such a lucky outcome, that we definitely did not regret. If you're like us and want to break up the monotony of your eat-beach-sleep routine with a bit more adventure, then Guraidhoo is for you.
Part 6: Rihiveli Resort
Rihiveli, Rihiveli… where to begin. I'll begin with our arrival. I questioned for quite some time whether it'd be worth it to fork out the cash for a resort on a private island. The thing is, I'm no spend thrift… anyone that's ever seen my shoe collection knows that I'm not afraid of spending money (not always a good thing…). I place a very strong value on the money I spend, though, and have a strong allergy to overpaying for things that simply aren't worth it. I was determined with this trip to not go crazy with the budget (like I usually do for hols like this), but decided that I couldn't justify a trip to the Maldives without at least a teeny splurge at the 'best French resort in the Maldives'. A bit of history about the Rihiveli resort and why we chose this as our splurge. The original owner (who is French) saved some Maldivian soldiers in a shipwreck and as a thank you, was granted a resort license for 10 years by the Maldivian government. The concept of Rihiveli is meant to be entirely eco-friendly, and everything is designed to respect the local environment. The place is relatively small with only 48 bungalows, and definitely feels like the peaceful haven it was designed to be. Each bungalow (Ours was 'Bismass') has its own hammock (albeit now the typical Maldivian ones!) and beach chairs, and you're provided with gigantic lush beach towels. Our bungalow was located on the back of the island, near the restaurant and I have to say we got really lucky! It felt deserted the other bungalows were spaced far enough out that it felt like we had the place to ourselves.
The first thing to keep in mind is that the arrival to any private island resort can cost an arm and a leg, as transfers from the airport are usually arranged directly by the resort and are either speedboats of seaplanes. Since we were traveling to other islands before our final stop in Rihiveli, logistically this proved to be quite challenging to get there without having to go all the way back to the airport and then getting a boat all the way back to Rihiveli. I'm no logistical expert but I knew that made no sense, but in terms of time and cost. When Ahmed at the (amazing) Raakani hotel in Guraidhoo agreed to help us sort a speedboat to Rihiveli for a very reasonable fare, we just at the choice and found ourselves…yet again on our favorite little blue dingy. It got the job done though and as we got to the jetty at Rihiveli we could tell the welcome staff could barely hold in their laughter at the sight of our tiny little barely afloat boat. But instead of paying $250 to get there, we paid £38 so I had a nice little chuckle to myself and hopped off the boat ready to see if this whole private island stuff is worth it. Hint: it is. it totally is, in every way.
The first thing you'll notice when you get to Rihiveli is that the place is beautiful, everything about it is beautiful. The water is clean and clear and warm, the sand is somehow magically always freshly raked, and each bungalow is simple yet luxurious enough. The sunrise view from our Bungalow was one of the best we'd seen in the Maldives, and being alone first thing in the morning watching the sun come up through the clouds… I had definitely stopped thinking about anything else other than the total beauty of my surroundings by this point, and the thought of heading back home to London was the furthest thing from my mind. Vacation objective = accomplished.
Our first day there was spent exploring the island, taking the free kayak out to explore the two islands that also belong to Rihiveli. They have snorkeling trips twice a day, free water sports like kayaks, snorkeling gear, surf and paddle boards, and even catamarans…! All for free, and accessible to anyone at any time. The group activities are posted right outside the Water Sports Center, and there's enough to keep even the most activate vacationers happy.
There are two food options on the resort, either the restaurant (which is ridiculously expensive at something like $130 for two) or the bar. We never tested the restaurant and opted for the bar food as it was delicious and much more reasonably priced. The food was very good and the drinks were cold and cheap, so no regrets there! It's also the only place you can even have a remote chance of getting a wifi signal, and is overall a place to hang as there's a pool table and some other games and is generally just the lounge area of the resort if you want to relax.
There was a happy hour every evening we were there on the huge beach out front, where certain cocktails were served on the outdoors bar pictured below, and we could sip drinks while watching the sunset.
The grounds were immaculate, and the overall vibe at Rihiveli was just… to chill.
We only stayed at the resort for three nights, but it was totally worth both the logistical headache to get there without paying a fortune, and the cost of the resort itself. Like I mentioned, we wanted that resort feeling without paying the resort money. After hours and hours of research, Rihiveli sounded like a great option. At only £178/night (plus tax, of course) we definitely got what we were looking for. And no Maldivian trip report is complete without sharing a few shots of this bird which we saw everywhere: the Grey Heron.
I haven't found any other resort in the Maldives that can offer such a setting at such a reasonable price. If you don't opt for the meal plan which in our opinion was not worth it, then you can have a very reasonable vacation in a truly mind blowing setting. If you're like us and what to mix it up, then including Rihiveli as the luxury leg of your trip, then you almost certainly won't be disappointed.