Like I mentioned in part 4, me and Jonathan were pretty fed up with Fulidhoo; we weren't overly impressed with the people, the Kinaan Retreat was good on paper but in reality was kind of annoying with the hideous smell in the bathroom and the noisy guests (the hotel was full during our stay) so we decided to gtfo and packed our bags with the quickness and checked out. Kinaan staff graciously did not charge us for the night we cancelled, and I called around (a lot) to track down a hotel that would a) come pick us up from Maafushi — where the ferry would drop us off — for a reasonable price b) arrange our speedboat transfer to the Rihiveli Resort, which was our next destination. I left this one up to universe, and the first hotel on Guraidhoo that answered the phone was Raakani Villas & Spa.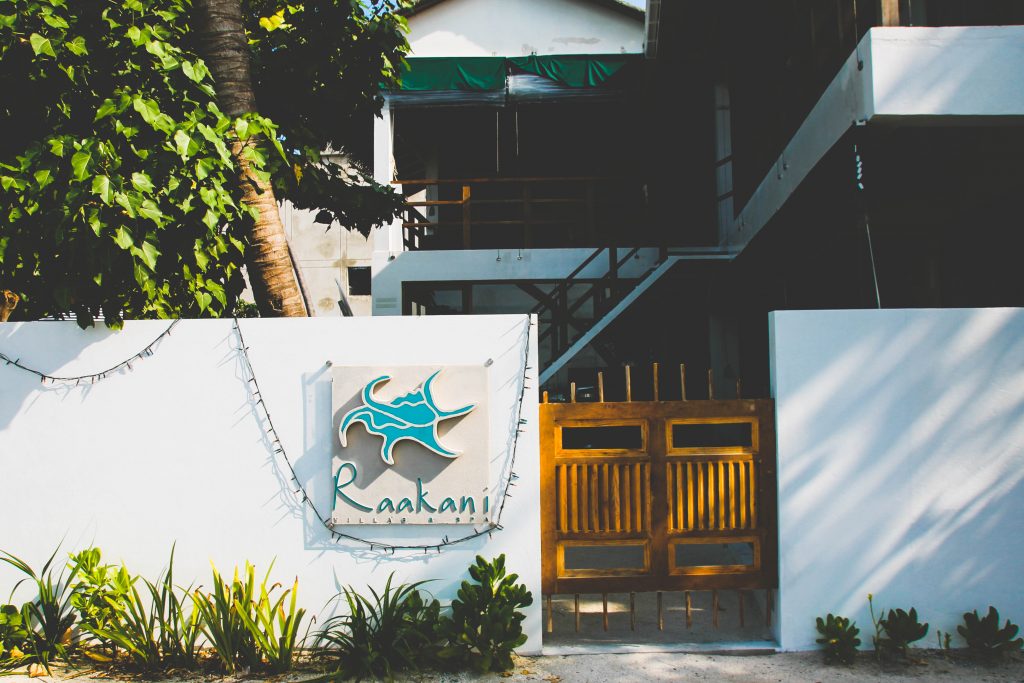 The owner answered straight away, and after I explained our situation, he immediately jumped into action and said he'd sort it out and to call him back in five minutes. When I did, he had already managed everything and simply needed to know what time he should have his boat in Maafushi waiting for us. Off to a great start with this hotel… that I didn't even have a reservation in! Not only did we not have a room booked, I hadn't even looked at the hotel's photos, amenities, or reviews (turns out they don't have any yet…) and just went for it. The Maldives had put us into such an easy going mood that we were pretty much up for anything. Turns out that sometimes just going with the flow, even when it's totally unplanned, can sometimes really work out: we absolutely love this place!! The hotel we loved immediately, but the island took a while to grow on us, but I'll get to that later.
There was a pretty heavy storm during our ferry ride over to Maafushi, and when we arrived, the jetty was empty (unlike when we arrived into Maafushi the first time and all of the guest houses were waiting for their customers), and there definitely was no speedboat like we had arranged with the Raakani owner. So, we said goodbye to Arora and Mundy (our friends that we met at the Thundi Guest House on Fulidhoo) who were also on the same ferry, and waited. And waited. And then, I started to worry. I started realizing that I spoke to some guy on the phone who said that he'll send a speedboat to pick us up, I don't know his name, I don't have a reservation in his hotel, and all I have is a cell phone number.
Right when panic mode was at 100% and I was pulling out my cell to call the number, my phone rang and it was the owner of the hotel letting me know that they guys had some difficulties because of the storm (duh of course they did because they only had a tiny boat…) but they're on their way and will be there soon. When they finally arrived 15 minutes later, I understood what he meant: this was the smallest boat I've ever been in and I'm still not quite sure how we made it with all of our luggage, and four people on the boat, without sinking!
But made it, we did and I was so happy to be alive after the ten minute journey that I forgot to worry about the fact that I had no idea where we were going to stay and whether the hotel would be awful.
In the end, we loved it, even though the Island of Guraidhoo itself wasn't necessarily mega impressive. So we decided to book an extra night at Raakani to just relax and hang out. The staff were sincerely some of the nicest people I've come across in all of my travels, and I am totally without a doubt sure that's why we stayed and why we enjoyed our time there so much. While there was no beach directly out front the hotel, there was definitely an incredible view, where we saw fish jumping out of the water in the hundreds and birds swooping in to grab them.
Guraidhoo is a special place for a few reasons which I'll try to capture in this post, but honestly you have to experience it to understand. The island itself is supposed to be bigger than the other islands in terms of population but it felt tiny. I must have seen about twenty local residents, and even fewer tourists. The population is supposed to be 1800 people but honestly, we really only saw about twenty locals out and about… no exaggeration. Then again maybe they were on vacation themselves on other nicer islands…! Not ones to be defeated, we hopped on a kayak to go explore the island from the water and that's when things got real: this place you guys… that water… can you see how blue it is!?
This is when we realized that on a 14-day trip, taking a few days off on an island that didn't have a perfectly curated beach was no big deal. One of the things about the Maldives in general is that there's not much to do other than swim, laze on a beach, and relax. But because we couldn't really do that in Guraidhoo, we explored. We walked around the island. We checked out the nearby mini-island connected to Guraidhoo by foot bridge. We wandered around and tinkered about the local shops. We hung out at the Raakani. We read. We relaxed. We just enjoyed ourselves with no pressure to do anything other than just…chill. Notice a common theme here?
One of the things that I spent time researching prior to our trip was the availability and niceness of the tourist bikini beaches that each island had to offer. I was all about doing a budget trip but not at the expense of seeing gorgeous white sand beaches and getting that paradise vibe. Guraidhoo does not have one of those gorgeous bikini beaches like the other islands, but paradise it still manages to be. The view from the Raakani hotel is breathtaking as you look out onto the sea from the top floor balcony, and the sun shines gloriously into the windows of the door throughout the day.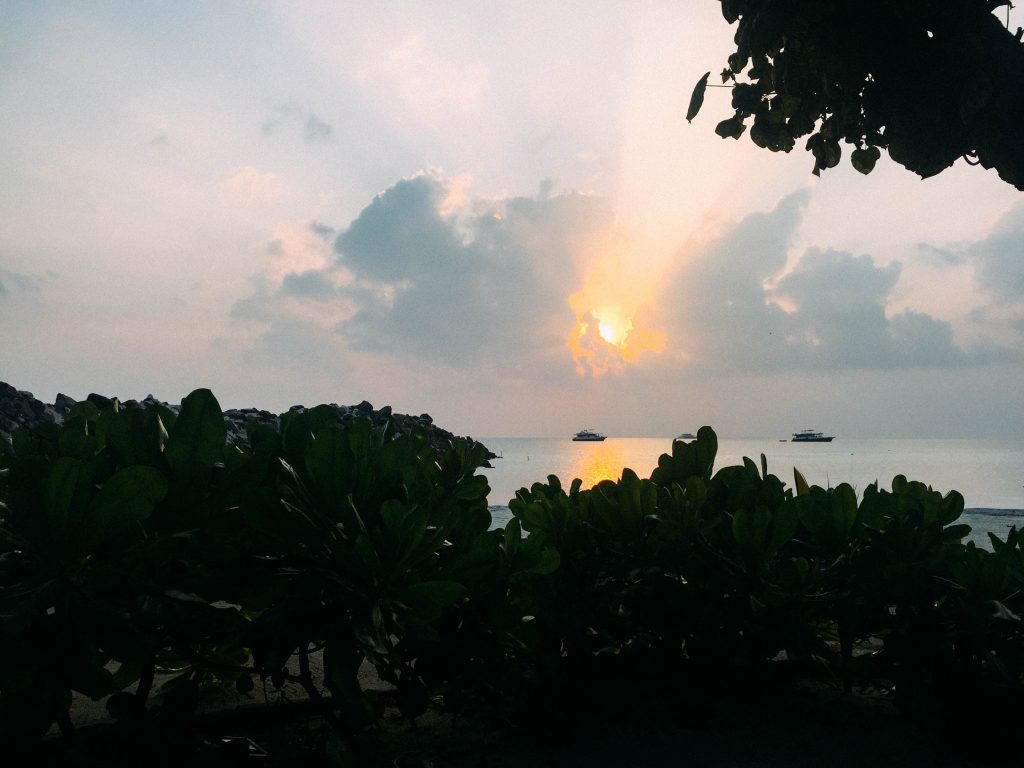 When we went exploring on our kayak, we went all around the island, goofing around, playing in the mini-waves, and paddling around to the Holiday Inn which is very close (pretty much on Guraidhoo itself). Then in a moment of pure wonder we stumbled upon…A BEACH!! A white side, little stretch of sand, but a beach all the same! Because we arrived late in the day, when we originally explored the tide was low and the 'beach' area looked absolutely gross. All the water had receded, and all was left was muddy, rocky, pools of grimy looking water. So we never came back, not realizing the transformation that the area would take if we came just a little bit earlier, and went a little bit farther. I didn't take many photos, and even this one doesn't do it justice but you get the idea. A real, sandy white beach right on that tiny little unsuspecting island of Guraidhoo. So they officially have everything it takes to be a true 'beach vacation' destination.
I'm not gonna lie, Gulhi, Fulidhoo and even Maafushi all had nicer beaches than Guraidhoo. But… if you have enough time to go exploring and you happen to be within easy reach of Guraidhoo, then I recommend it. No, you probably won't spend a 2-week holiday here, but it's worth a pit spot for sure. If only to stay at the Raakani hotel, and enjoy their view, their ridiculously kind and generous staff, and their gorgeously designed rooms. We felt refreshed and invigorated when we hopped on our familiar tiny boat on our way to Rihiveli, and that is exactly what makes for a perfect vacation destination.
As for lodging, I can say without a doubt that Raakani has the best location on the island (though there are some nice stretches of sand on the opposite side, they aren't maintained yet and when the water recedes it looks pretty ugly). I'm all about reserving hotels on booking.com, both for ease and assurance that I will probably not get scammed if I carefully read reviews. We booked directly with the Raakani hotel however and we got a much better rate, and I felt better giving all our cash to the hotel instead of giving a cut to booking.
This unexpected destination on our itinerary was such a lucky outcome, that we definitely did not regret. If you're like us and want to break up the monotony of your eat-beach-sleep routine with a bit more adventure, then Guraidhoo is for you.
Or view everything on one page: Maldives on a budget – full series