One of the things I told myself when I started this blog was that I would not do tons and tons of pasta recipes. See, my favorite food is and always has been: pasta. I have to force myself to not eat pasta every day of the week (and twice on Sunday), and part of the reason I wanted to start cataloguing my recipes was so that I could use this as a resource for myself, when trying to answer the age old question of what's for dinner.
I spend lots of time working, like most folks, and don't have too much time to prepare elaborate weeknight meals (though that certainly doesn't always stop me, even if I end up eating at 9:30pm or sometimes later…!).
A quick pasta dish is often my saving grace after a long day in the office, and spaghetti carbonara fits the bill perfectly: it's made from mostly pantry items (or things that I always have on hand) and comes together in the time it takes to cook the pasta (yes, really).
Carbonara was totally unknown to me until I moved to France, where it is on every menu, from restaurants to home kitchens. I was never a big fan because it is usually kinda thick and creamy, and not the light sauces that I tend to go for.
Then, my spaghetti life changed: I had this dish in Italy. You guyyyyyysss. It was nothing like the clumpy mess of cream and lardons that they're serving up elsewhere, this was a delicate balance of parmesan, eggs and black pepper. You might be thinking, what about the guanciale (pork, similar to lardons or bacon) the recipe also calls for? I stopped eating pork ages ago, so no bacon, ham or traditional carbonara for me. I've always been able to manage a 'vegetarian' version in the past, which as you can imagine has always lacked that smoky salty bacon flavor.
Then I thought, if carbonara can be this good without meat, imagine if I kicked it up a bit with some turkey bacon and made it myself? After a few attempts to get the recipe right, I was nothing short of amazed at how good this came out. Despite not having as much fat as the traditional recipe from the pork, the sauce came out perfectly balanced, savory and creamy, and the turkey bacon and parmesan added that extra flavor to complete this so-simple-its-complex recipe.
I'm definitely not one to say that recipes should be followed to the letter for them to be 'authentic', as experimentation and mistakes often lead to some of my favorite kitchen creations. But some things are just so good as they were meant to be, that you have to try it the 'real way' at least once before you start changing things up. For spaghetti carbonara, this means: no chicken, no mushrooms and certainly no cream. Give it a try, then customize as you like 🙂
For anyone looking to try a slightly slimmed down take on the classic spaghetti carbonara, or anyone like me that doesn't eat pork, please give this recipe a try – you will not be disappointed!
And don't give up if you don't get it right the first time you try it. Recipes with only a few ingredients are often the most difficult to get right, because every ingredient counts. The main difficulty I encountered when making this recipe was preventing the eggs from scrambling – once you get past that hurdle, you'll be a pro at whipping this up in 15 minutes tops.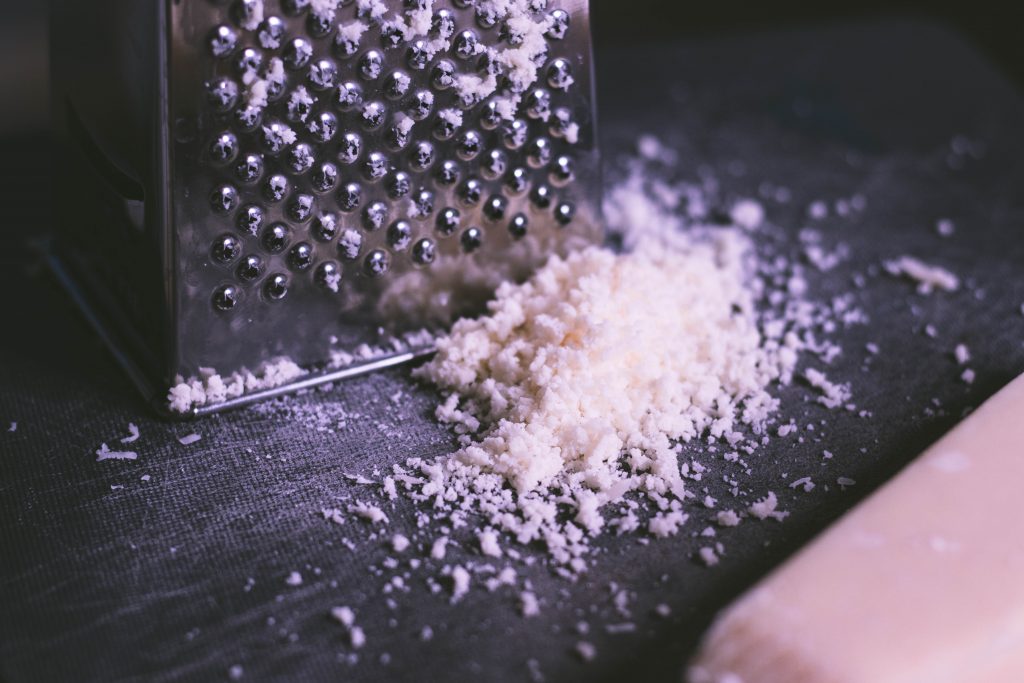 As always, my recipes are for two people but this can easily be doubled and is lovely reheated for lunch the next day 😉
Ingredients:
150 grams of spaghetti
About 6-8 slices of turkey bacon, chopped into rough pieces (or turkey lardons if you can find them!)
1 large egg
1 tablespoon of unsalted butter
Fresh ground black pepper
Sea salt, for seasoning
75 grams of parmesan cheese – freshly grated
I'm including lots of detailed steps for any readers that haven't ever made this before, but it really boils down to: make the pasta, fry up the turkey bacon, mix together the egg/parmesan/black pepper, add cooked pasta and turkey bacon to egg mixture and serve. Easy peasy.
Instructions:
Bring a large pot of water to a boil, add a generous amount of salt (2-3 tablespoons) and cook the pasta until al dente. My trick for perfectly cooked pasta is to cook 1-2 minutes less than the time indicated on the package. For spaghetti, this is usually 6-7 minutes.
Heat a small pan on medium heat, add the butter and turkey bacon and cook for 5 minutes, or until cooked through and slightly crispy. Set aside.
In a large metal bowl, whisk together the egg and grated parmesan, and grate in some fresh ground black pepper.
While the pasta is boiling, using a pot holder, carefully place the metal bowl over the pot for about 45 seconds to gently warm up the bottom of the bowl, and the egg & parmesan mixture.
Drain the pasta, reserving about a cup of the pasta water.
Add the cooked pasta to the turkey bacon pan (without heat) and let sit for 2-3 minutes to slightly cool.
Add the pasta & turkey bacon to the egg mixture bowl and toss quickly with tongs to make sure the pasta is evenly coated with the sauce.
For a creamier sauce, add in a tablespoon at a time of the reserved pasta water, continuing to toss the pasta. I usually end up adding about 3 tablespoons.
Use a ladle and fork to serve if you want to get the 'nest' like look, and top with some grated parmesan, sea salt and black pepper.
Warming the egg mixture slightly, and letting the pasta cool a bit will help prevent the egg from scrambling. Adding the pasta water will help to cook the egg in the sauce, and will give the pasta a luxuriously creamy texture.
I hope you enjoy this simple pasta dish as much as I do! If you make this recipe, I'd love to see – snap a pic and tag @seefoodplay on Instagram to share your take on this classic Italian fave.
SaveSave