You Guys!! I have been SO excited to share this post with you, ever since I ordered my first pair of CRZ leggings. I have been searching for a pair of Lululemon Align 25" legging dupes for ages, and I tried out so many different brands from Amazon until I found these little treasures!!
Priced at only £16, these Amazon CRZ brand leggings are definitely worth checking out.
Don't feel like reading? Check out my review video over on YouTube!
First of all, I have a love/hate relationship with Lululemon in general. I obviously can't speak on every Lululemon store, but I've never had a good experience at the London stores. I've found the staff unhelpful and to be honest, I didn't really feel like I was their target demographic. For a store that sells $100 leggings, I expected a better level of customer service. Again, just my experience 🤷🏽‍♀️
I resisted buying them for a really long time because I thought the idea of buying leggings at such a steep price is ridiculous (because it is). But… when I was pregnant, I was desperate for a more comfortable alternative to the cheap-o H&M leggings I was pretty much living in. I scoured the internet for ideas and everything came back with the same answer: Lululemon Align 25" leggings. So I finally gave in and got a pair and… of course I loved them. They're buttery-soft, they're the perfect length (I'm 5'2" / 1m58), and just like everyone promised, the fit around my growing baby bump was perfect. They lasted me throughout pretty much my entire pregnancy, and I'm now nearly 5 months post-partum and they're still as snug and comfy as ever.
That's all good and great, but am I really going to stock my closet full of $100 leggings, even if they *are* super comfy? No, 100% not.
I'm all about a good dupe, because I love getting quality goods for less £££ whenever possible. So I did what lots of folks do: I headed over to YouTube to watch review videos of Lululemon dupes. Every video I found was reviewing exactly the same brands, and saying they were all great. So, I bought a few pairs and I was so disappointed!! None of them fit anywhere near like Lululemon Align leggings, and some were downright uncomfortable. And most importantly… way too long.
Here is how the CRZ leggings sit at my ankles: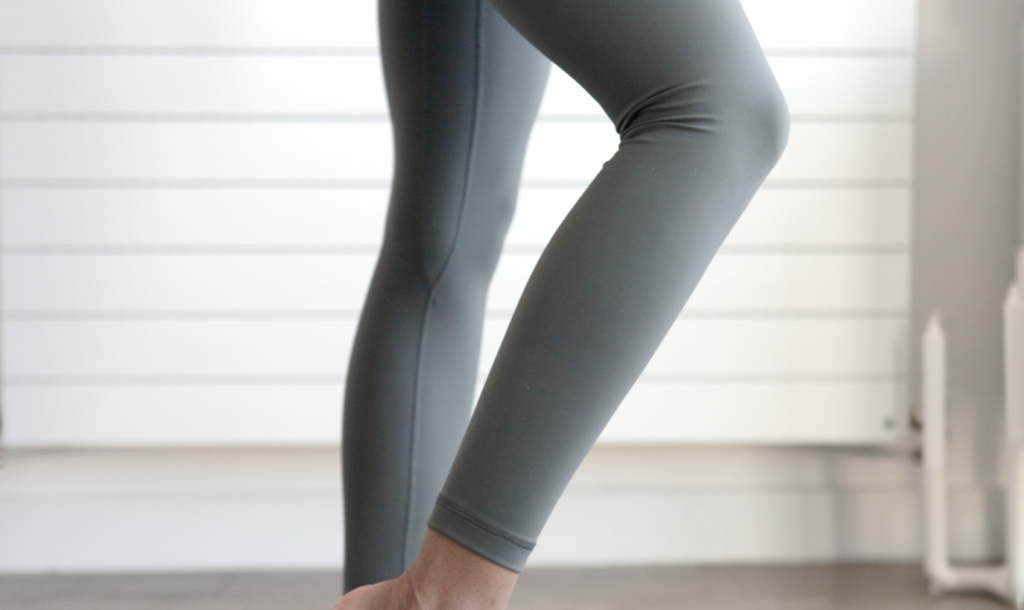 So I set off to find the closest dupes I could, and that's how I ended up with the CRZ brand of leggings. I didn't even want to order them because at the time I came across them on Amazon, they weren't available with Amazon Prime shipping. And really, who wants to wait days to get your urgent new pair of leggings? I took a big dose of "reality check" and ordered them anyway, because really, it wasn't that serious.
When I got them my first reaction was "okayyyyy!!" – they came in really beautiful colors, and the cut was exactly what I was hoping for. They're marketed as naked-feeling and they're clearly trying to give the Aligns a run for their money. The inner-leg seam is identical – as in really exactly the same – as my Aligns. The band around the belly, again, identical. What's not identical, however, is the material.
If you've ever worn Aligns then you know just how soft the material is. But, that is also what I don't like about them. Even with perfect care, they get bobbly and look … old… very quickly. The CRZs are super soft and stretchy, but the material is really more like sports tights. As a result, they're incredibly sculpting and do a great job of cinching you in, in all the right places.
I ordered them in a size UK 6, but recently ordered a new pair in grey in a UK 8 and realize that this is actually my size. I didn't yet have the size 8s when I recorded the YouTube review video, but if I did then I would have been even more convinced just how close of a dupe for the Lululemon Aligns these really are. I can't quite recommend the CRZ leggings as pregnancy leggings because even the size 8 is very snug around my midsection, but I will say that the size 8s are significantly more comfortable than one size down. I'm 50kgs and 1m58, so I think it's safe to say that these size every-so-slightly small.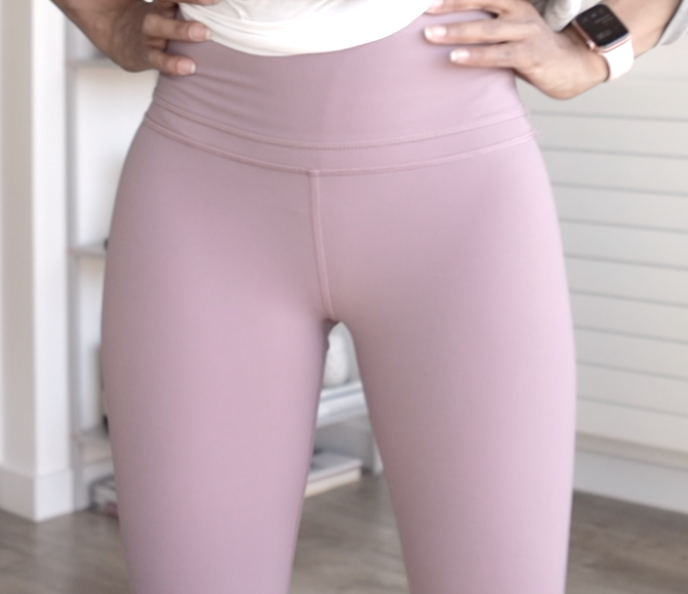 So if you're looking for an alternative to Lululemon Align 25" leggings, and are interested in leggings that are comfortable but also sculpting, then I cannot recommend the CRZ leggings enough!! I'm so happy I decided to give them a try, because they're the perfect step-up from my cheap H&M leggings, for a lot less money than I was paying for my Lululemon Aligns. These are a fantastic cheap alternative to the more expensive options out there – if you try them, then you will not be disappointed!
Want to try them out for yourself? Check them out on Amazon: