The DIY project that I've chosen for today's post is one of my absolute faves – upcycled wine bottle candle holders & vases. I'm not sure what that says about my drinking habits… But if you're anything like me, then you probably have ahem…at least a few wine bottles sitting in your recycle bin anyway. This project is a great way to turn them into little golden accent pieces that can be re-used around the house in lots of different ways.
I made these for my wedding and used them as our table centerpieces, and to create a beautiful glow in the fireplace — they were big hits. These are great if you need a quick way to dress up your dinner table, and can be done in just a few minutes.
This craft is so easy and only costs a few bucks, but the end-result is pretty impressive. You could put flowers or candles in them, or a mix of both – like I did! You could also do about 5 or 6 of them, and make a beautiful candle fireplace arrangement. The possibilities are endless, so go finish up that bottle of wine (everyone has a Monday Merlot, or something along those lines, right…?) and get started on this easy-peasy gold spray painted wine bottle DIY!
Materials:
Spray paint (I used metallic gold)
Empty wine bottle(s)
Cardboard or drop cloth
Optional: Candles & Flowers (Hydrangeas pictured)
Here are a few photos of the finished product (courtesy of: Annie Gozard photography)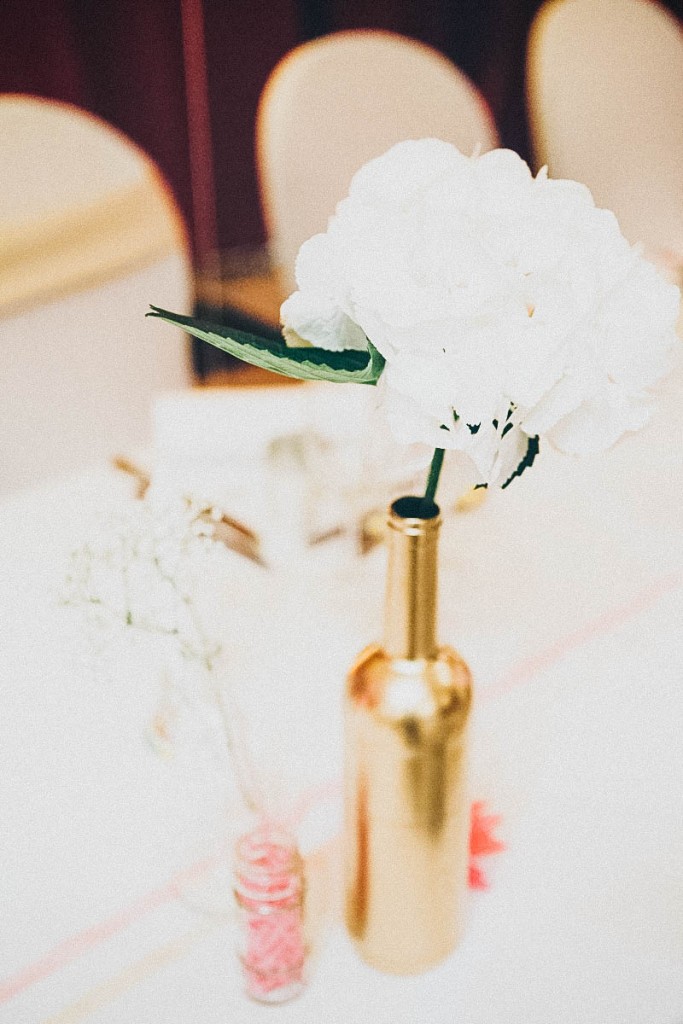 Instructions:
The longest part of this project is removing the labels from the wine bottles. The best method I've found has been to submerge the bottles in hot water and just letting them soak for at least an hour. The label should slide right off !
Next, dry your bottles and make sure the surfaces are nice and smooth. If some glue is still stuck on, then use a utility knife to scrape it off.
Place your bottles right-side-up on a covered surface (cardboard or cloth) and spray on your first coat of paint. Make sure you aren't too close, otherwise you'll get drips and uneven textures on the bottles.
If needed, add a second coat.
Allow to dry, using your spray paint brand's recommendations (mine only takes about 30 minutes to dry, but I always leave them overnight to "set" and to avoid scratches and scuffs).
Add your flower or candle, and you're ready to enjoy the fruits of your labor!