Gulhi… I'm not sure why, but this place really made me feel some kind of way. There was very little information available on the various islands, so the decision-making process was straightforward: can we get to the island with relative ease, are there decent and affordable housing options, and is there a bikini beach. Gulhi seemed to tick all the boxes, so it made its way onto our itinerary. The lead up to this trip for me was a bit frantic as I was working pretty much up until a few hours before our flight, so I didn't have much time to liaise with our hotels, advise of arrival times etc. We opted to take a speedboat from Maafushi to get to Gulhi and it was worth it, quick and cheap and we weren't constrained to follow the ferry timetable.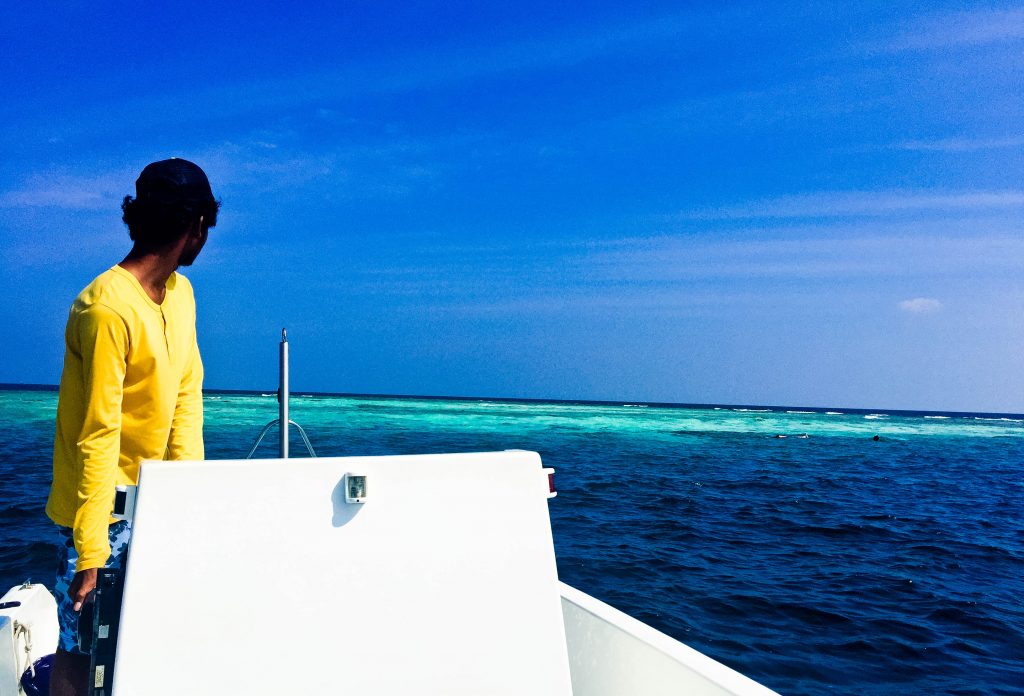 Because each island is so small and there aren't exactly droves of tourists arriving each day, you really need to let your Guest House or Resort know when you'll be arriving, because they usually need to make arrangements to meet you at the jetty, or at least be at the guest house when you arrive on the island. I didn't do any of that though *and* we took a speedboat instead of the scheduled ferry so we arrived several hours earlier than our hosts were expecting. When we got to Gulhi people near the jetty looked surprised to see us and asked where we were going. We told them the name of our guest house and they grabbed their cell phones and called our hotel to tell them to come meet us. Within seconds a young guy arrived with a wheelbarrow, grabbed our bags and led us to the Orchid Island Lodge only a few meters away from where our boat dropped us off. After Maafushi, Gulhi seemed deserted and 'touristy' is not a word one could ever use to describe the place. Oh boy… so this is what a remote island with a population of around 500 people is like!
I'm not particularly sentimental, but a very marked feeling of sadness washed over me as we waived goodbye to our hosts from our speedboat, when we left Gulhi heading to our next island. This place is special. I'm not sure if it was the sincere niceness of the locals we met, or the absolute stunning beauty of the beaches, or simply the absolute calm and relaxation that we experienced there, but this place has something and whatever it was, it was exactly what I needed.
The island itself is not particularly nice, there are lots of half-built buildings (presumably destined to be more tourist guest houses and hotels), and there's a bit of trash around the island that takes away from its natural beauty. The beach is stunning though and there's decent snorkeling without swimming very far from shore.
The restaurant options in Gulhi were definitely limited *but* the food there was the best of the three inhabited islands that we visited. If you love rice and noodles, or noodles and rice…or more rice, then you are in luck: nasi or bami goreng are always on the menu and it was delicious everywhere we tasted in Gulhi. And very, very cheap. The idea that food is expensive in the Maldives definitely applies to certain places, but Gulhi is probably where we spent the least money on food. One of our fave spots was the Surfista Cafe, which offered up a menu with a decent amount of options all at reasonable prices.
Our hotel: Orchid Island Lodge – to say that the hotel is not fancy is an understatement. It's probably one of the least-nice rooms I've in fact ever stayed in. It's humid, the bathroom is more of a wet room, the bed was hard, the ceiling fan was loud, there was damp around the moldings, the furniture was falling apart in places. But I didn't care. At all. My experience in Gulhi and the authentic niceness of our hosts and of the people on the island made up for it. They organized a snorkeling trip for us which turned nothing short of magical when around 15-20 dolphins showed up to the party and played around the boat. It.was.so.cool!!
Our days on this island were simple, and we didn't have to think about much other than to just go with the flow. Ideally placed about 50 meters from the Bikini Beach, there's only one other hotel which seemed closer (which is pretty much right on the beach). If you're looking for luxury, then this ain't it. If you're on Gulhi Island to begin with, though, then you probably aren't! The tourist beach in Gulhi was wide with fine grain white sand, and the water is warm and calm. There were tons of fish to explore right off the beach, and there were maybe 10-15 people on the entire beach at its busiest times.
We were provided with beach towels at the hotel, and they have allocated plastic beach chairs for guest use. The Guest House has three rooms, so never feels crowded. The internet connection as OK, though we relied on it very little since we had tons of data on our cell phones.
Access to the bikini beach was very easy and only a few minutes away from each hotel on Gulhi, and the beach is surrounded by a barrier so as to prevent the locals from seeing our bikini'd bodies.
Breakfast was eggs, sausage (chicken hot dogs lol), toast with jam/butter/nutella, fruit, coffee and juice. If you visit the Maldives for a few weeks like we did, then you will grow to hate this breakfast after about Day 5 of eating the same thing every day, so I'd suggest you mix it up and swap out the eggs/sausage for a piece of fruit and toast.
The hosts though, are what made this place special. They are just so incredibly attentive, helped us with everything we needed, spoke great English so communication was easy, and were just…lovely people. Objectively, Fulidhoo is probably more beautiful (ok, it is) but in Gulhi, we had the best of both worlds: gorgeous beach *and* amazing people.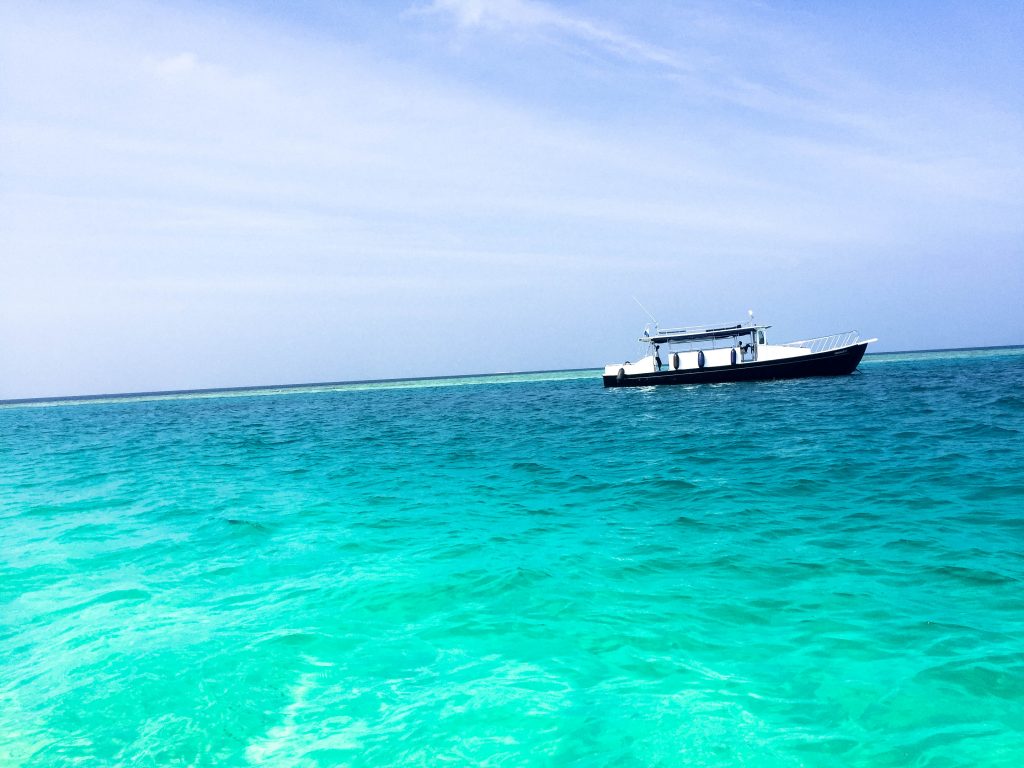 Or view everything on one page: Maldives on a budget – full series