**Updated April 2018**
Budget-friendly trip to the Maldives? Yes, it's possible! Check out this 6-part budget Maldives budget-friendly trip report and itinerary, so you can see how we were able to visit five islands on the cheap.
The ferry from Maafushi to Fulidhoo takes about two hours, but it goes by quickly enough. You ferry past several resorts on your way, so you can catch a glimpse of some of the famous water villas of the luxurious resorts. As the ferry pulls up to the Fulidhoo jetty, you will definitely have a 'whoa this is crazy beautiful!!!' moment: the water is bluer than blue, and island is dotted with palm trees, and the guest host staff are all waiting to welcome us to their gorgeous island. I heard the phrase 'postcard beautiful' many times from other tourists and that's the best way to describe it. This place feels like paradise…because it is.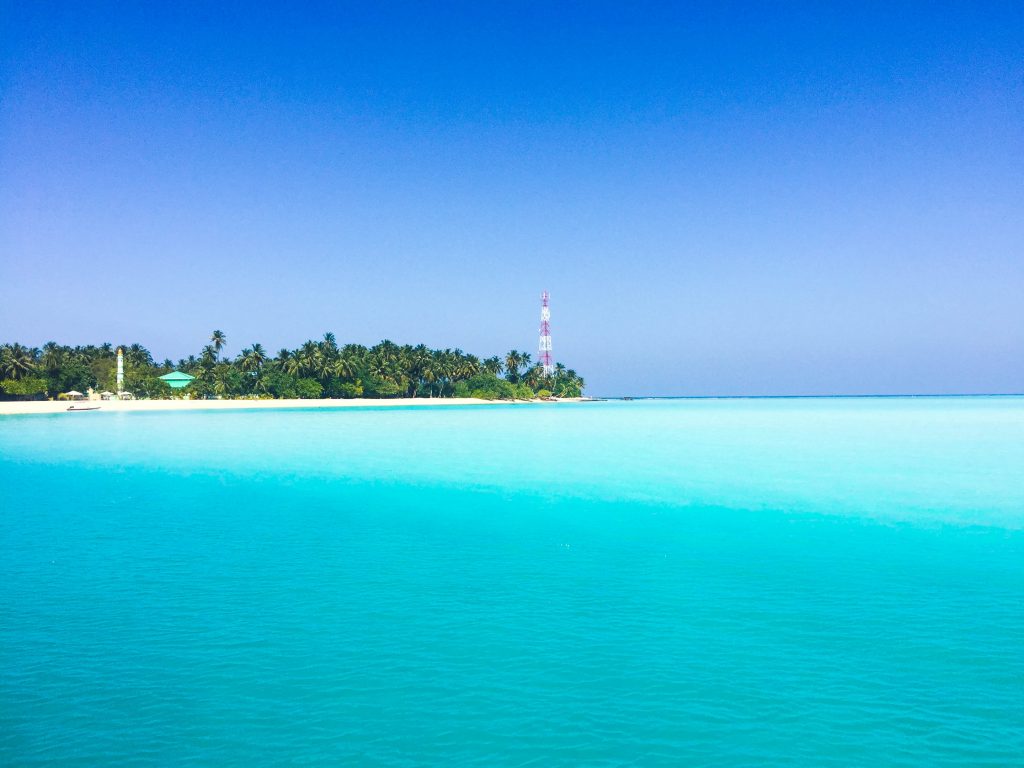 The ocean is calm and shallow (which is how I like it, but if you want waves, you're out of luck), and the sand is lush and doesn't get too hot. Unlike Gulhi's bikini beach, this one is on a slant, which makes it a bit tough to find a good comfy spot. There are two parts to the beach, and plenty of room for the small number of tourists on the island. I'm a notorious water-phobe, but if you can't swim in the ocean off of Fulidhoo's beach, then I'm convinced you can't swim anywhere. The temperature is just right to cool you off, it's totally clear and transparent, and it doesn't get deep for several meters away from the beach (hmm maybe more than 100?), so you can really just float around and relax.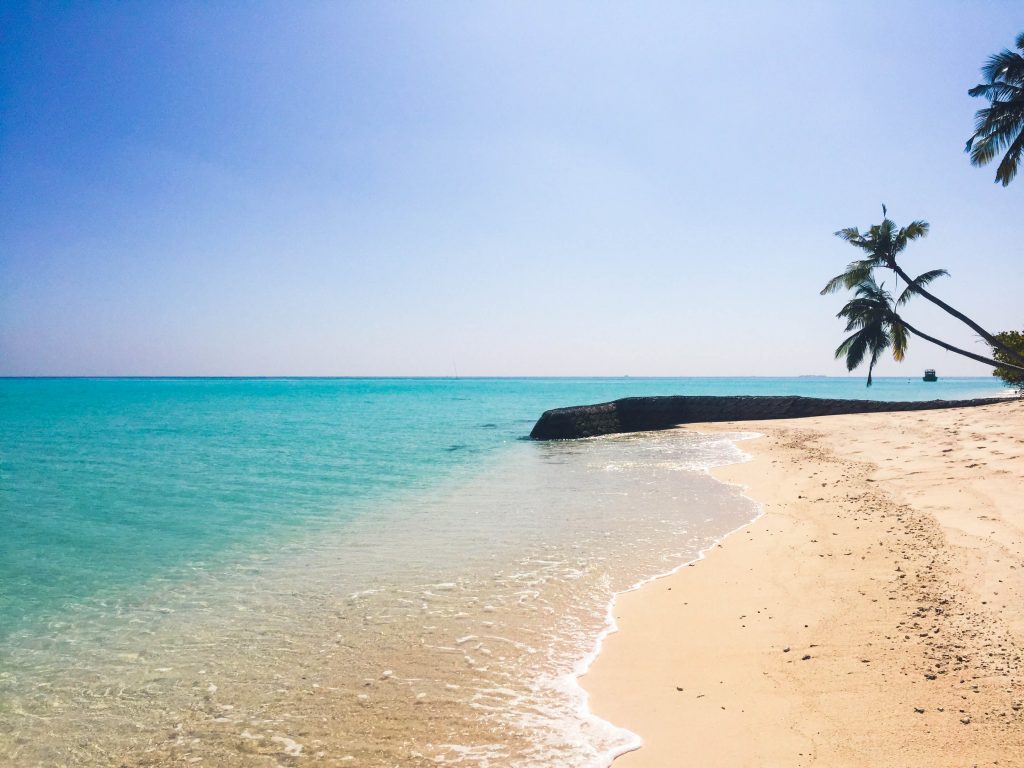 The palm trees make for a picture-perfect setting… and then you realize that the view of the sunset from the beach is insanely beautiful, and you realize that you've actually found a tiny bit of heaven on Earth. So yeah, Fulidhoo's tourist beach is nice.
The people in Fulidhoo seem slightly more reserved than Gulhi, but our Hello's and Good morning's were always met in kind, and as tourists we felt both welcome and valued by the locals. With a  population between 200-400, it goes without saying that everyone knew who we were, and everyone knows each other. Fulidhoo is crazy small, but if you're looking to get away from everything and …just chill, then this is it. As a matter of fact, the Maldivians are definitely down with just chillin' as evidenced by these hammock-chairs that you will see everywhere, on every island in the Maldives. They look a bit uncomfortable tbh, but you'll be pleasantly surprised with how relaxing they are!
The excursions were a bit disappointing as it seems that lots of the coral is impacted by the unfortunate worldwide phenomenon of coral bleaching, so not much to see in terms of fish. We went to 'shark point' though and that was insane and made the trip worth it, from that alone! We took a speedboat about 20 minutes out, to a shark feeding point near one of the resorts and yes… everyone jumped out of the boat and swam with sharks to snorkel and watch them feed. A surreal experience not for the faint of heart, but very, very cool. The sharks are apparently the 'friendly kind' ("like the Maldivian people, the sharks here are very polite", according to our Orchid Island host in Gulhi lol). So they posed no risk and were about the size of small dolphins. But still… swimming with sharks, y'all!
The island, much like the other inhabited islands, felt very much under construction, often littered with trash and construction materials, and with lots of half-built hotels or houses.
We stayed in the Thundi Guest House and were pleasantly surprised, both by the chill vibe at the hotel as well as the reserved but nice owner. In the spirit of 'crescendo itineraries' (starting with more modest hotels and activities, ending on a high note slightly more lavish) that I tend to do, Thundi was definitely a step up as far as the facilities go. A short walk from the jetty, the guest house has three rooms, and a serene outdoor seating area where we would have breakfast and dinner each day. We were half-board, so didn't have to bother with finding food on the island if we didn't feel like it. This place has a definite backpacker vibe, was very laid-back, and the other guests were lovely and the first time we really spoke much to any other tourists during our time in the Maldives so far. The communal-style (gorgeous wood) picnic table was great and our co-tenants were fab. The breakfast options were Maldivian-standards (continental or local options) and very filling. The dinner though, is where this place shines. Seated outside in the small courtyard, each group (again, only three rooms) had their own table and the food was brought out in a very family-style sharing setup. We had rice, noodles ('spaghetti'), salad (cole slaw) and grilled fish, followed by a fruit plate. On Friday we got lucky and got to partake in a complimentary beach side dinner, followed by traditional Maldivian music and dancing. Y'all…it was absolutely amazing and something that J and I won't soon forget.
The Thundi Guest House was only available for some of the days we needed, so we moved after a few days to the Kinan Retreat. Off to a rocky start, our hotel room wasn't great so we had to move (freezing cold water in the shower), and the new room was smelly and didn't feel as nice. The staff doesn't have a strong level of English so communication was difficult, and the place is closer to the Island's Mosque, so we heard the call to prayer throughout the day much louder than at Thundi Guest House. They don't provide shower gel, shampoo, or anything really other than the room and towels. That's the bad. The good… the hotel felt brand new, slightly more upscale in general, and has a nice and airy seating area in the front part of the hotel, looking onto the beach. The view definitely saves this place, and the sound of the ocean's gentle waves tumbling onto the beach were an unexpected and fab bonus. I'm glad we experienced both the Thundi Guest House and Kinan Retreat on Fulidhoo, though, as they both offer totally different experiences. Thundi's guests seemed very laid-back and younger, whereas Kinan's guests are either groups of a few people or families with children.
There were a few (two, to be exact) general stores on the island which we ended up visiting every day to stock up drinks and mosquito repellent when we ran out. They sell basic snacks like cookies and candy bars as well as instant noodles, soda and water, and other random stuff. We kept going in there hoping a delivery with more options to choose from miraculously arrived, but alas it never did, so we continued to buy faux pringles, nuts, and cranberry soda.
We originally planned to spend six days on Fulidhoo but after a few days there we got pretty sick of it (which feels weird to get sick of such an amazing place), so we cancelled the last night in our hotel and hopped on the Ferry back to Maafushi. We didn't really have a plan of where to go, but I spent 30 minutes calling around to various hotels on islands near Maafushi until I found one that would come pick us up from Maafushi by boat, and take us to our next island Rihiveli, for a reasonable price (ie, less than the $400 everyone else seemed to be charging). And like some of the best experiences in life, totally unexpectedly, we found ourselves on a tiny dingy heading away from Maafushi to Guraidhoo. And I am so glad that we need, but not for the reasons that you're probably thinking.
All in all, our time on the four inhabited 'local islands' was everything that I'd hoped it would be. Anyone (well, rich people) can pay for an amazing vacation in the Maldives at any of the private resorts. And yes, these resorts are incredible (like, for real). But curated beauty is not the same as the authentic, lived-in beauty that you'll find on these local islands. Not everything is clean, they don't really know how to handle tourists (yet…), and none of the hotels are particularly nice, especially if you're used to luxury (or even average) accommodations. The food gets boring and monotonous after a few days, and there's not much to do. But… you live a few days in their world, understanding just a little bit more about the Maldivian way of life. They couldn't care less about the so-called 'important' project at work that your life is focused on 99% of the time, and after a few days, you won't either. So if you get the feeling that this trip changed me…you're right. Difficult to put the sense of reassuring nothingness that you feel on these islands into words, but keep reading to hear how the rest of the trip went! Hint: everything was amazing, in every way.
Or view everything on one page: Maldives on a budget – full series
SaveSave
SaveSave