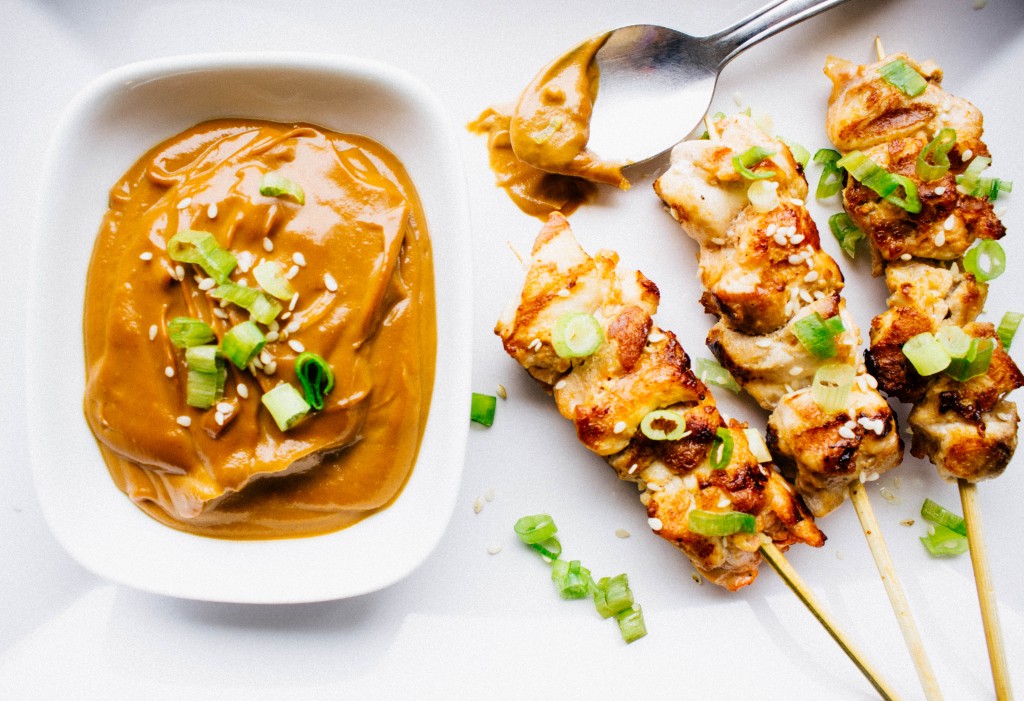 What a week this has been! I've gone out after work pretty much every day this week, mostly for work-related functions, so needless to say my home cooked meals were…well… let's just say that Jonathan made dinner a lot this week. Though I did make an amazing black bean & pulled beef brisket soup with creamy cheddar quesadillas a few nights ago, so I didn't leave the poor guy to fend entirely for himself. I'll be making the aforementioned recipe again very soon… just wait until I post that – it was screen-licking good.
But I digress…because today's post is about a different recipe: quick and easy marinated grilled chicken skewers. I should mention that I had no intention of even blogging about these little amazingly simple yet perfect snacks – when I tasted them, though, I knew that these needed to be shared with the world. They're that good. Since I haven't been 100% on kitchen duty this week, we found ourselves with a few random ingredients that needed a home in some kind of recipe (ie, before they went bad…). I'm obsessed with boneless & skinless chicken thighs – we are definitely a dark meat family – but I had like, a kilo of the stuff left to use up. Jonathan whipped up a delicious smoked paprika & lime juice marinade, then I threw them on a few skewers, heated our grill pan and let the magic happen.
I'm all about simple, no-nonsense recipes during the week, and this one perfectly fits those requirements. Serve it with a bowl of rice (cilantro rice, maybe?) and you've got yourself an easy meal that's sure to please all the chicken lovers in your life.
This recipe couldn't be easier, is full of flavor and is sure to make everyone around your dinner table happy. Baked, grilled or even in a pan on the stovetop…these chicken skewers are the real deal. Go make them now!
Ingredients:
4 medium-sized boneless & skinless chicken thighs
2 tablespoons olive oil
Juice from 1 lime
1 teaspoon smoked paprika
¼ cup of peanut sauce* (optional)
Sesame seeds (optional garnish)
Green onions (optional garnish)
Instructions:
Cut the chicken into 2-inch pieces
Marinate the chicken in the olive oil, lime juice and smoked paprika for at least 30 minutes (overnight if you have the patience)
Place 5-6 pieces of chicken on each skewer
Grill for about 5 minutes on high heat or until cooked through (or for about 10 minutes if you're using a stovetop grill pan.)
Place them on a piece of paper towel to remove any excess oils
Serve garnished with green onions, sesame seeds and a bit of lime juice drizzled on.
*I played around with this sauce so much before I got it just right that I didn't note down the exact proportions of soy sauce, curry paste, etc. I'll make it again and be a bit more studious next time, but in the meantime, check out this recipe for homemade peanut sauce: http://www.gimmesomeoven.com/thai-peanut-sauce/